Indie Game Developer Interview: Gamenauts with Founder Stanley Adrianus and the Whole Radical Fishing/Ninja Fishing Issue
Our Indie Game Developer Interview segment is back this week after a week's hiatus, and this week we have a dash of controversy added to the proceedings. The guys over at Gamenauts came up with Ninja Fishing, an iOS game that I really like (hence the 4.5 out of 5 rating that in our review over here).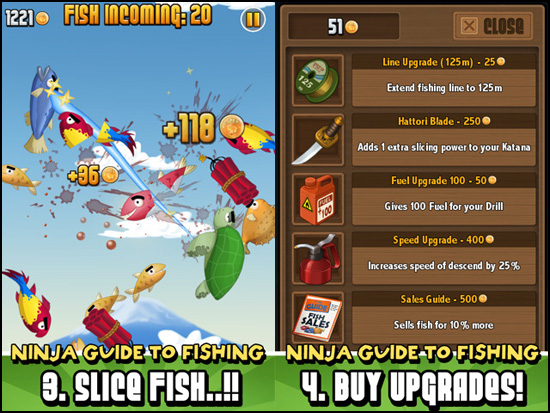 Now, word on the Internet has that Gamenauts copied the idea from a Flash-based game called Radical Fishing, which led to the comment below on my review post by one of my readers:
The gameplay isn't inspired by two different genres. It's completely copied from an indie game that game out in 2010 called Radical Fishing. For shame.
My response had a little bit of salt added to it. It's pretty common to have a game inspired by another game or two. And the word copy here is perhaps used in too strong a terms. Can I say that the guys at Appy Entertainment copied Angry Birds by coming up with Trucks and Skulls? Gameloft copies tonnes of console/PC games to come up with iOS-based derivatives and these guys are almost always on top of the sales charts.
Fortunately for us today, the guys at Gamenauts came up with a response to this Radical Fishing/Ninja Fishing issue even though I didn't ask for one. I e-mailed them the questions before I found out about this…thing, and was planning for an additional question, but anyways, without further ado, here's Stanley Adrianus answering on behalf of Gamenauts:
Nine Over Ten 9/10: Tell us more about yourselves and how you started developing mobile games?
Stanley Adrianus – Gamenauts: My name is Stanley Adrianus and I run Gamenauts. I got my start in the industry at Yahoo! Games in 2000, creating the site and the suite of games. Fast forward to 2005, I started Gamenauts to develop games for the casual market.
We were fortunate to have a couple of #1 hits series in our Cate West and Burger Rush franchise. Burger Rush, in particular, is the first game to combine match 3 with restaurant management gameplay and we're super proud of that title.
My long-time development partner, Menara Games, also started at around 2005. Menara is run by Chris & Satya, two really talented and all-around super nice guys. We've worked on so many games together that I consider us as one team by now.
We decided to try out the iOS market in 2009 with a game called Stickbound. The game was received well critically but didn't do well commercially. I attribute this to the lack of birds in the game, although we do have a zombie in it. And a pirate.
9/10: What was the idea behind Ninja Fishing?
SA: Ninja Fishing is inspired by an older Flash game called Radical Fishing. We liked the core fishing mechanic but wanted to bring in our twist by adding a new slashing mechanic, which added new challenges as you need to slash carefully avoiding dynamite.
Aside from adding an entirely new level of presentation, we really took a lot of time tweaking and improving many aspects of the game. For example, we added underwater mines on the sides in the lower levels of the sea. This forces the player to stop resorting to the method of just sticking to the walls.
We also really concentrated on the behind-the-scenes and micro aspects of the game, especially on perfecting the tilt controls which is a lot harder that it looks. Overall, we think we've taken the original concept and raised it to a new, re-stylized, casual-friendly level.
We had been in touch with Vlambeer, the original developer of Radical Fishing and we had them in the credits as the original inspiration. However, they asked that we removed those credits, so we complied with their request.
9/10: How has the response been to Ninja Fishing on the iTunes App Store?
SA: The response has been pretty positive. At this moment, we're at Top #11 Paid Games in the US and have a 4.5 stars rating over 500 reviews. We're very grateful to our players who have enjoyed the game and some have also sent us very nice emails. I have to say that it hasn't really sunk in yet as we haven't stopped working on the next updates for the game.
9/10: Could you share with us a little on what you'll be working on next?
SA: Right now, we are solely focused on adding new content for Ninja Fishing. We want to keep making our players happy with the next updates, and hopefully continue the success of the game. We do have another title in the works, but it's still pretty far off and right now our #1 priority is still on Ninja Fishing.
9/10: What are your view on iOS games piracy and how has that affected you and your fellow developers?
Games piracy is of course a blight on our industry and the iOS platform is definitely not an exception. The pirated copy of Ninja Fishing started swimming around the Internet hours after we launched. Having been in the industry for over 10 years, it's one of those things that we unfortunately have to learn to tolerate, and shift our focus on trying to make a good game.
Powered by

Sidelines
Previous Post GAMEVIL Reports 34% YoY Revenue Increase in 2Q of 2011
Next Post Super Dynamite Fishing (iOS) Review: Redneck Dynamite Awesomeness