Expand Your Knowledge with Geogame World Series (iOS)
We take a break from all of them shooters, racers and even role-playing games for something more cerebral today. Shoppapp LLC's Geogame World Series is the definitive world trivia game, aiming to help students and adults alike by testing their world knowledge and learn new facts.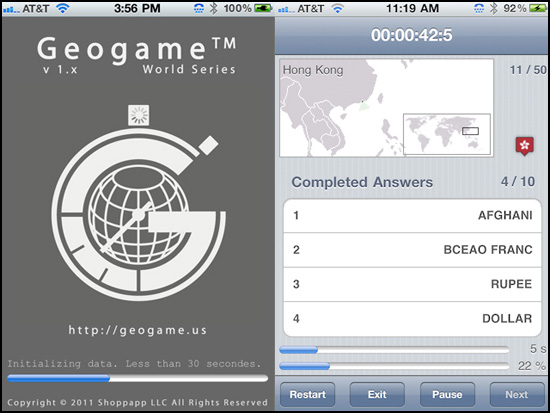 It's a well-known fact that people retain information much faster when education and entertainment are mixed. Geogame "gamifies" learing with a multiple choice race against the clock to help test and improve knowledge.
Geogame has been featured by Apple in their "What's Hot" section and the upcoming version 1.5 update will extend Geogame onto the iPad, with support for class learning. This coincides with a campaign that is about to be launched by Shoppapp targeting educational institutes to further integrate Geogame into home learning and campus equipment.
The game itself features four categories of trivia, namely Territories, Currencies, Capitals & Flags. The game has a hallmark of any good test, as the settings can be strategically customized to suit a particular audience to improve time and score. Wikipedia integration is done within the app with the auto-saving of content for offline use.
Geogame is available for free on the iTunes App Store, featuring every challenge for the continent of South America for players to try it out. Other continents can be purchased separately at USD 0.99 as in-app purchases and the World Zone pack brings everything together for a total of 247 territories and a price tag of USD 2.99.
Check out Geogame over on the iTunes App Store: https://itunes.apple.com/app/geogame-world-series/id434748909?mt=8
Powered by

Sidelines
Previous Post App Of The Week: TableDrum (iOS) Next Generation Augmented Audio App
Next Post Back To Back Movie Reviews: Captain America and The Rise of The Planet Of The Apes