Ninja Fishing (iPhone) Review: Slice 'em Dice 'em, Be A Sashimi Master
Ahso…the Way of the Ninja states that if you teach a ninja to fish, not only will he haul up the fish by the dozens, along with a treasure chest or two, but he'll flip 'em sky high before chopping and dicing 'em to earn cold, hard, gold. And so, that is the premise behind Gamenauts' latest game, Ninja Fishing.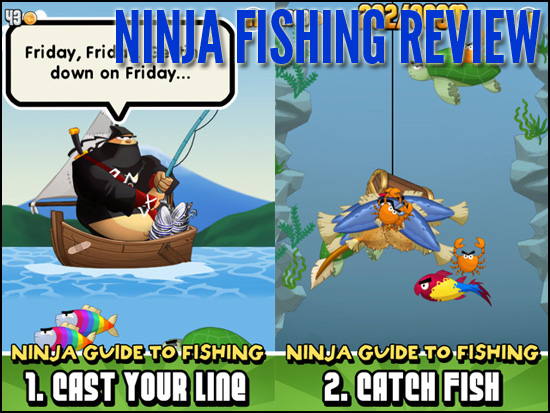 The gameplay is broken up to two parts, borrowing heavily from two different genres. First up, players tap the screen to cause the Ninja to cast his fishing line. The objective here is to get as deep as possible by avoiding hitting any fish; this is done by tilting the iPhone left or right to move the line. Once the line is bitten, the ninja will automatically reel the line in.
This is where the 2nd part of the gameplay takes place. The fish will then tossed sky high, and like Fruit Ninja, players will need to slice em up but instead of chopped fruit, you get sashimi instead. The more fish you managed to slice, the more gold you'll nett. Gold is used to purchase upgrades that will make you a fishing ninja master.
Like Nintendo's Animal Crossing, Ninja Fishing comes with a whole plethora of fish species, lending a gotta-catch-em-all kind of vibe to the gameplay. The perils of the deep are no joke here as there are underwater mines laid down deep. Not only that, players will have to deal with dynamite being tossed about when they are slicing fish.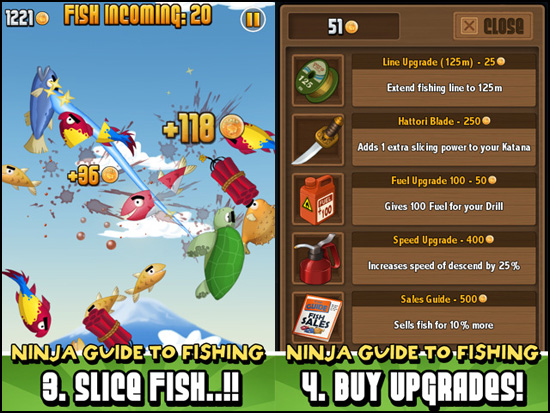 Ninja Fishing's addictive gameplay is coupled with pretty 2D graphics, and while this is not a game that boast 3D textures like its nearest counterpart Fruit Ninja, it does have some extra depth (literally) to its gameplay. The leaderboards provided via Game Center ranks players with the most number of gold, and already I can see that people are amassing a lot of the shiny stuff…looks like the game has a big fanbase, and you can count me as being part of it.
Nine Over Ten 9/10 rates Ninja Fishing at a 4.5 out of 5. HIGHLY RECOMMENDED. Ninja Fishing is available on the iTunes App Store for USD 0.99. Check it out over here: https://itunes.apple.com/us/app/ninja-fishing/id445283501?mt=8. A review code was provided to Nine Over Ten 9/10 for the purpose of this review.
Powered by

Sidelines
Previous Post Ninjas are Rushing to an iPhone Near You in Frostware's Upcoming Game
Next Post A Space Shooter (iPhone) Review: A Tough Challenging Shmup