Kickin Momma HD (iPhone) Game Review: Addictive, If Not Slightly Disturbing
If there's a Mum Of The Year award, I doubt that Momma Monster from Hothead Games latest game, Kickin Momma HD would be on stage to collect the award. Being unable to afford a necklace, she kicks her children down valleys filled with gems to dislodge and ultimately collect the gems. Don't be alarmed, she's a big, blue monster, so I think she knows what she is doing. This hilarious, if not slightly disturbing premise is the basis for Kickin Momma HD's gameplay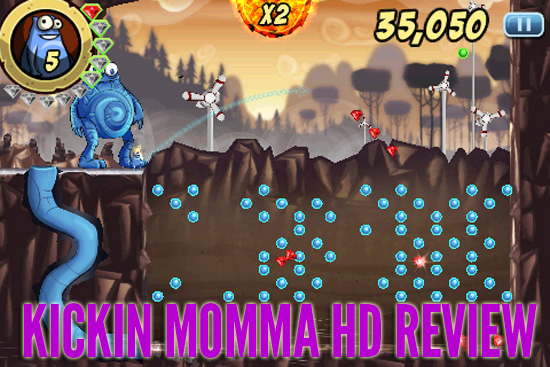 Players tap on the screen to set the trajectory before pressing the kick button for Momma Monster to launch her kid in the air Buzz Lightyear-style with a kick to the butt. For added precision, players can use the directional keys around the kick button that will activate a magnifying glass, allowing players to even shoot through gaps to get to the jewels.
Momma Monster's kids will bounce of anything they hit, meaning that while the game seems to be the poster child of blue monster children abuse (lol),  it's essentially a physics game like Rovio's Angry Birds. Some of the items in the levels are not necessarily jewels. Some are obstacles that may require one or more hits, some explode while others bestow multiplier effects on your score. Just make sure that the jewels drop to the bottom of the valley so they can be sucked up.
And like Angry Birds, Kickin Momma HD comes with plenty of levels for the amount of money that players pay for the game. Players are rated in each level on a gold, silver and bronze medal basis, which are in turn determined by their final score at the end of the level. If it isn't enough settling for a necklace, Momma Monster can be outfitted with a whole bunch of unlockables.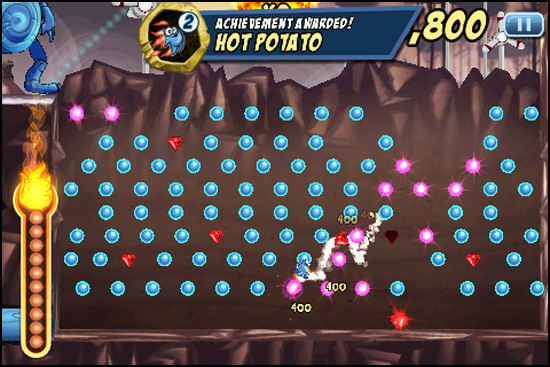 I found it very hard to pry my fingers away from the game, even when it was time to write this review…this slightly disturbing casual gaming experience, is, in a word, addictive :). Nine Over Ten 9/10 awards Kickin Momma HD with a 4.5 out of 5. HIGHLY RECOMMENDED.
The game is available on the iTunes App Store for just USD 0.99. Check it out over here: https://itunes.apple.com/us/app/kickin-momma-hd/id445724120?mt=8. A promo code was provided to Nine Over Ten 9/10 for the purpose of this review.
Powered by

Sidelines
Previous Post Magmic Brings Foursquare Integration to Rubik's Cube App (iOS)
Next Post Tap Tap Glee for iPad, iPhone and iPod touch Sings Its Way Onto the App Store