Bitwise's Hospital Havoc 2 Coming Soon to iOS
I have not seen the likes of Theme Hospital on iOS devices, but it looks like Bitwise Design's upcoming Hospital Havoc 2 is set to fill in the gap. A time management doctor sim game, Hospital Havoc 2 will have players assume the role of doctor who, with the aid of a nurse assistant, must manage multiple patients – and their often hilarious health concerns – while ensuring the success of their customizable health center.

A sequel to the original Hospital Havoc game, Hospital Havoc 2 ups the ante with more laughs and gameplay features. "I mean, who wouldn't want to play doctor for the day?" Ray Graham, co-designer of Hospital Havoc 2 and founder of Bitwise Design, said. "At least in Hospital Havoc 2, you don't have to worry about unethically experimenting on your patients, stealing their personal belongings when they kick the bucket, or giving them electric shock therapy."
Players of Hospital Havoc 2 are guaranteed a realistic visual experience. "To make sure I captured the essence of what it might be like to be subjected by shock treatment," explained Benjamin Chavigner, Lead Artist for Hospital Havoc 2, "I spent a month constructing a 100 gigavolt, 45 amp Tesla coil with a 450 horsepower back-flow coolant system (for maximum current duration).  Then I strapped Ray to a chair, put some wrist straps on him, and flipped the switch to on. I got some great photographs that I could reproduce into art that you'll see in the game."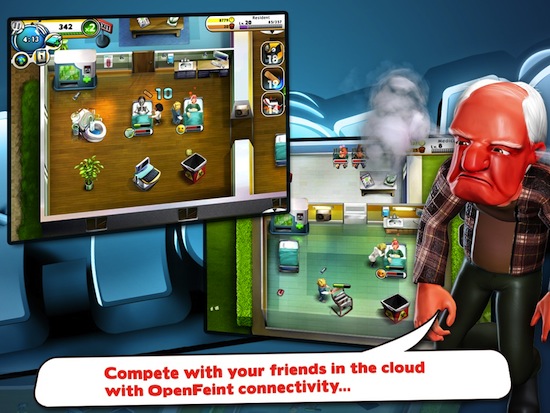 Hospital Havoc 2 will feature 100 levels, 20 hilarious health scenarios to diagnose and cure with over 35 patient types. To deal with these shenanigans, there are numerous doctor appearances, with 6 doctor skills to learn, level up and advance. The developers also promise the ability to connect and compete with friends through OpenFeint and Game Center.
Check out the official website for more details: https://www.hospitalhavoc.com/
Powered by

Sidelines
Previous Post Halfbrick Releases New Machine Gun Jetpack Video Series Staring Barry Steakfries
Next Post Magmic Brings Foursquare Integration to Rubik's Cube App (iOS)