Maniac Games Launches Development of Insane Arcade (iOS)
Minnesota-based Maniac Games has announced the development of a new freemium title for iOS devices, called Insane Arcade. Think of the game as part Sim-management game with a mix of social networking features commonly found in freemium titles these day, including visiting your friends' arcades.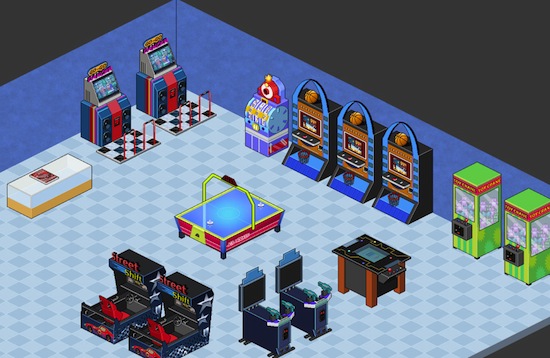 Players themselves can branch out to create a whole franchise consisting of multiple arcades. Controls will be simple and intuitive for players as the team has been working on ways to try to minimize the UI and focus mostly on game play. This is done by intermixing some of the menu buttons within the scene itself. For example, the way players will order machines is by tapping on a magazine that's sitting on the front counter.
Attracting patrons to your arcade will truly be a strategic experience as well, as you talk to your patrons and "guide" them to machines they are looking for. Maniac Games also promises to launch the game with a whole slew of custom arcade games.
"We want the community to have access to a wealth of content. We literally want there to be hundreds of machines to pick from," says Joe Heitzman, one of the lead designers.
The game is set for release within the Fall of 2011 for iDevices first with a port to Android coming sometime early next year. Here's an interesting part about the whole entire game development process, the developers have set up a Kick-starter page to help with certain parts of development. Check it out over here: https://www.kickstarter.com/projects/insanearcade/insane-arcade-the-arcade-in-your-pocket.
Stay tuned to Nine Over Ten 9/10 for more details on Insane Arcade.
Powered by

Sidelines
Previous Post Electro Chuck (iPhone) Game Review: Electrifying Gameplay
Next Post Oceanhouse Media/HarperCollins Children's Books Announce New Agreement to Bring Additional Berenstain Bears Titles to the App Market