This Week In Comics: Detective Comics, Project Superman, Venom, X-Men Legacy, Schism, Uncanny X-Force
OK, it looks like this whole War of the Green Lanterns thing seem to have dissipated just like that and any form of closure is replaced just with air. At least the re-boot is not too far away, this whole Flashpoint thing is throwing spanners into everything as well.
It's suprising that the most "normal" book that I like this week happens to be one of the more "unhinged" ones. Jim Gordon's son has been creeping people out in Detective Comics, and things look to be coming to a head in #880. The Joker takes great pains in pointing out the differences between Dick Grayson's Batman and Bruce Wayne's Batman and for once…he's not really the bad guy in this. (check out the cover, it's awesome).

Like I've mention earlier, the Flashpoint titles are making reading comics a headache (at least for me). Project Superman #2 is meh, whereas I'm still getting used to seeing Hal Jordan without a ring in Hal Jordan #2. I wonder how DC plans to consolidate this universe with the current main one to form up the re-boot, it has to be an event of cataclysmic porportions.
On the Marvel side of things, Venom #5 doesn't disappoint at all despite taking away the guns early in the story to let Flash Thompson deal with daddy and drink issues. I wonder what will happen when Peter Parker finds out that Flash is wearing the symbiote… I mean, having the former lose his spider senses in the Spiderman books was a stroke of genius, otherwise, he would have found out at the drop of a hat.
X-Men: Legacy #252 should probably be renamed as X-Men: Legion #n whereby n = the number for the particular split personality that Legion is battling in this issue. He gives up without much of a fight to the big bad personality he has been hunting, but we can only see the repercussions in #253.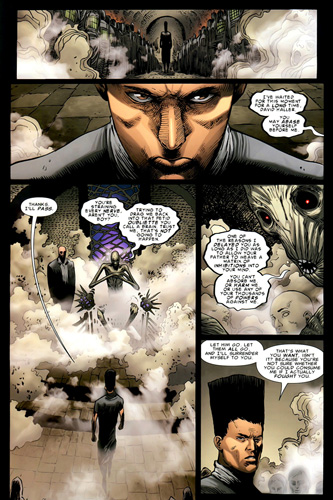 X-Men: Schism #2 is interesting, but the art kinda steals its thunder a bit. Just take a look at Rogue's costume, and how Cyclops looks like a malnourished Somali or something. Before I get to the next title, it seems that the X-books are really having their cake and eating it, if you've got a limited budget, buy any of the X-titles mentioned here today….including this one: Uncanny X-Force #12.
It's bloody good as it asks plenty of What-If worthy questions like What-If mainstream Wolverine meets AoA Jean Grey…and better still…sets up the stage for the former to face his AoA counterpart, the supposedly dead one-armed Canuck revived as one of Apocalypse's heralds! FIGHT FIGHT FIGHT!
Powered by

Sidelines
Previous Post Digital Harmony Announces SuperTomo for iOS, Browser, Android and More
Next Post Weekend Race Report: Men's Health/Shape Run 2011 and Klang Admiral 5A Charity Run 2011