ChocoRun (iPhone) Game Review: Pure Platforming Goodness
Depending on your appettite for self-immolation, Alejandro Jimenez's ode to Super Meat Boy, titled ChocoRun, for the iPhone, may or may not be the game for you. Lets just get this out of the way, the game IS brutal in a fun way, so much so that only the persistent gamer can get through it with a combination of sheer skill, luck, and patience.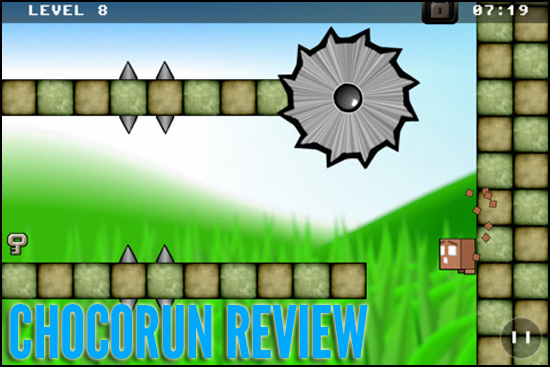 You see, ChocoRun is damn straight-forward when it comes to platforming. Players somewhat take control Choco, who is always always running on autopilot, making him jump through levels that are filled with gaps and obstacles. As such, jumps must be timed properly with the correct amount of strength (determined by how long you hold your finger on the screen).
Such pureness allows the game to display its true intentions, which is to test the players to the very limit in avoiding obstacles (by jumping) in order to allow Choco to escape each of the 30 levels. No gimmicks, just pure gameplay…something that is lacking in several of the platformers that I've been looking at lately. Like so many other casual games, players are ranked by how fast they complete a level with a star rating system.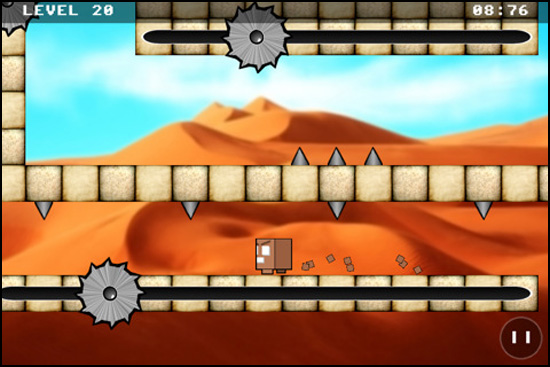 To top it up, the game certainly looks amazing, with some very nice 2D-cell shaded art. ChocoRun supports both OpenFeint and Game Center for Online Leaderboards and Achievements, which makes the game appealing to fans of either social gaming services. I came away from the experience of playing ChocoRun suitably impressed and Nine Over Ten 9/10 rates the game at a 4 out of 5. Check it out!
ChocoRun is available on the iTunes App Store for just USD 0.99: https://itunes.apple.com/us/app/chocorun/id435292025?mt=8. A promo code was provided to Nine Over Ten 9/10 for the purpose of this review.
Powered by

Sidelines
Previous Post Assemblage 2 (iPhone) Game Review: More Tower Stacking Awesomeness
Next Post Digital Harmony Announces SuperTomo for iOS, Browser, Android and More