BlibBlob (iPhone) Game Review: Disappointing, Boring Platforming Experience
Some games, in my opinion, really have their priorities wrong. Case in point, Syclla Games' BlibBlob. On the surface it's a colourful, cheerful-looking 2D platformer with a rotund protagonist, Mr. Filby out saving a kingdom. It does sound like the developers are following a certain recipe to platforming success, but wait, there's more.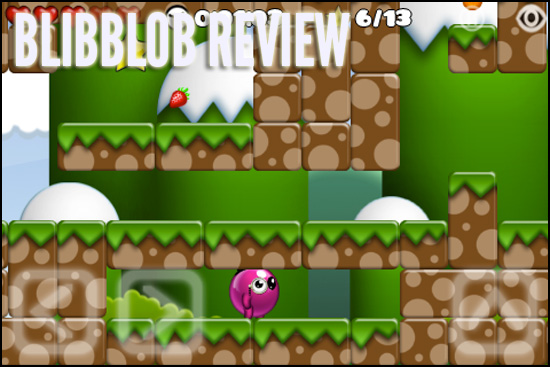 The player is tasked with collecting stars that are strewn across the level, no easy task due to the fact that the big guy doesn't actually stomp enemies to oblivion. Yup, at this point the game deviates from the certain recipe for success. The enemies instead act like moving platforms when Mr. Filby jumps on them…just don't walk right into them, each hit will take away one of Mr. Filby's life.
While I understand that enemies are part of the game design (to help the fat guy reach places), this kind of um…imposed impotency (?) on the part of Mr. Fliby just upped the boringness factor of the game by several notches.
The game's method of making up for it's shortcomings is to go overboard with all the secret passages to reach seemingly hard to reach places. This false sense of exploration hits new heights when you somehow bump into a secret passage which happens when you just walk through certain walls without warning. It's pretty much trial and error, hardly something you want in a really..boring..game.
I'm pretty disappointed with BlibBlob, considering that the game looks and sounds great. The gameplay just falls flat. I would rather the game look ugly but deliver on the some really fun, addictive gameplay. Nine Over Ten 9/10 rates BlibBlob at a 2.5 out of 5.
The game is available on the iTunes App Store for USD 0.99. Check it out over here: https://itunes.apple.com/us/app/blibblob/id447580464?mt=8. A review code was provided to Nine Over Ten 9/10 for the purpose of this review.
Powered by

Sidelines
Previous Post iStoryTime's THE SMURFS Storybook App Arrives On iOS Devices, Gives Sneak Peeks At Movie
Next Post SNK Playmore Unleashed Retro Arcade Titles for Sony PS3