HyperBowl (iPhone) Review: Bowling in Odd Places
Bowling used to be a past time of mine, and therefore I find HyperBowl for the iPhone to be a pretty interesting game. It's the official port of an old Sony arcade title and features bowling in really unconventional places. Think of it as bowling meets 3D meets mini-golf and you'll get a rough idea of the gameplay the game offers.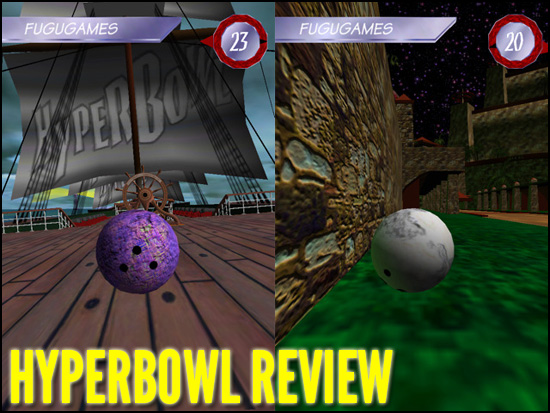 Beginners can start off on the Novice lane which is the closest thing to a normal bowling lane, but with the setting being on some alien planet. The player is given about 25 seconds to roll the ball by constantly flicking at the screen. Depending on the course, there's certain lee-way allowed in steering the ball, but this makes the ball movement to be unrealistic.
This is a necessary evil considering that the other levels are winding and full of obstacles. One level has players rolling the bowling ball through the Yosemite forest, another on the deck of a ship. The game's 3D graphics runs decently on the iPhone 3GS, but given that the textures are not that detailed, it's kinda expected. However, there are a couple of levels that are unplayable on the 3GS.
The Arcade mode comes with multiplayer support for up to 4 players where as the single player game is pretty much run of the mill level selection. Hyperbowl comes with online leaderboards and achievements provided for via Game Center.
Nine Over Ten 9/10 rates Hyperbowl at a 4 out of 5 for being an interesting diversion from typical bowling games on the iPhone. The game is available on the iTunes App Store for USD 0.99. Check it out over here: https://itunes.apple.com/us/app/hyperbowl/id344209253?mt=8
A review code was provided to Nine Over Ten 9/10 for the purpose of this review
Powered by

Sidelines
Previous Post Push-Cars (iPhone) Review: Cute Little Mind-Bending Puzzle Game
Next Post Captain America: Sentinel of Liberty (iPhone) Now Available At USD 0.99