WordCrasher is OS X Lion ready
I've just upgraded to OS X Lion this morning, and it has been an interesting experience using it so far. I thought it would be apt for me to put up a post on a game available on the Mac App Store which has been made Lion-ready. Kevin Ng Games' WordCrasher 1.0.5 has been updated to support Lion's full-screen capabilities and the ability to resume games after the app is closed down.
Check out the press release below for more details on the game and this particular update:
Edinburgh, United Kingdom – Kevin Ng Games today is pleased to announce that WordCrasher, an innovative and tactile word game available on the Mac App Store, has been updated to add support for OS X Lion features. The update adds support for OS X Lion's new full screen capabilities, and the ability to resume games which were in progress when WordCrasher was closed down. If the user shuts down the Mac while a game is in progress, WordCrasher will restart from the same place when the user next logs in.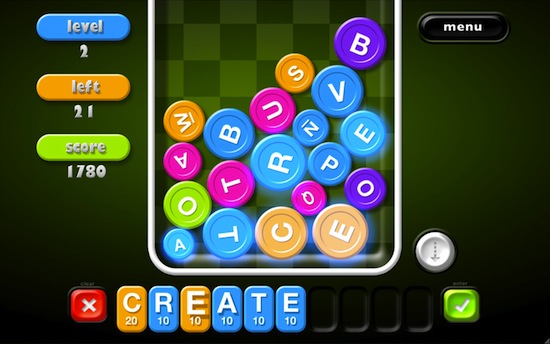 WordCrasher continues to support Snow Leopard, and brings some of the new resume capabilities to this operating system. WordCrasher is a tactile word game which made its debut on iPhone and iPod touch in January 2010. A new OS X version was made available on the day of launch on the Mac App Store.
An innovative take on the word game genre, letter discs fall and collect on the screen as the player touches discs in sequence to make words. Scored words will disappear, clearing space for new letters. Combining long words with rare letters will score the highest number of points. When the discs fill the screen, it's Game Over.
WordCrasher for Mac brings the same core gameplay from the iPhone game, but also introduces a unique twist exclusive to this version. On the Mac, the player can use their typing skills to get ahead; WordCrasher allows the player to enter words simply by typing on the keyboard.
For those players who want a similar experience to the iPhone version, the mouse or trackpad is also supported, allowing the player to click on letters instead of using the keyboard. Whilst players of all skills are catered for with three difficulty settings, a special quick-fire game mode, called Insanity, is included to test the reactions of even the most experienced touch typist.
Pricing and Availability:
WordCrasher 1.0.5 is available worldwide through the Mac App Store today. Price may vary per region. WordCrasher is usually priced at $3.99 (USD), but is available at a reduced $1.99 price for a limited period (check it out here). WordCrasher 1.60 is also available for iOS on the App Store, priced at $1.99 (USD), check it out here. WordCrasher for iOS requires iOS 3.0 or greater.
Powered by

Sidelines
Previous Post Liquid Enters Mobile Gaming with Battle Realms Collectible Card Game in 2012