Liquid Enters Mobile Gaming with Battle Realms Collectible Card Game in 2012
I used to play quite a bit of Liquid Entertainment's heavily Asian-influenced RTS game, Battle Realms on the PC. That was a really cool game. And I just got news that Liquid is going mobile with Battle Realms, with the upcoming release of a collectible card game based on the game's universe for both iOS and Android in 2012.
It will be featuring some of the core gameplay elements that made the RTS game great, including Unit Alchemy and Living World. Check out the press release below for more details:
Liquid Enters Mobile Gaming with Battle Realms
PASADENA, Calif. – July 20, 2011 – Liquid Entertainment, the studio behind Dungeons &Dragons: Dragonshard for the PC and the upcoming Dungeons & Dragons: Heroes of Neverwinter  for Facebook, will develop and publish mobile games starting with a collectible card game based on the studio's beloved real-time strategy game, Battle Realms. The game will be out for iOS and Android devices in 2012.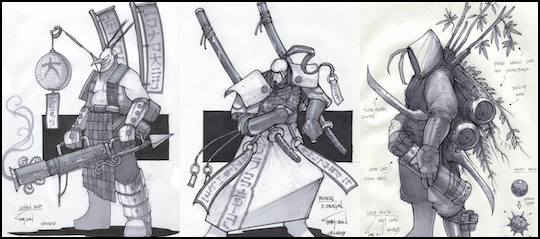 Battle Realms on mobile devices marks Liquid's transition from a console/PC developer to a mobile developer and publisher, signaling a new direction for the 12-year old studio. An independent developer at heart, Liquid will use its expertise in creating new IPs with a hardcore sensibility to give mobile gamers the intense, fulfilling gameplay modern smartphones and tablets can offer.
"Maturing mobile platforms like iOS and Android allow us, for the first time, to translate the Battle Realms universe into an addictive, unforgettable card game you can enjoy anywhere, anytime," says Ed Del Castillo, President, Liquid Entertainment. "It's been an undying dream of mine to allow gamers to gather socially and play games together again, and the technology is finally here to make that possible."
In the original Battle Realms, launched exclusively on PC in 2001, four Clans (Dragon, Serpent, Wolf, Lotus) dispute a small piece of land broken off of a much larger continent. The game was a labor of love for Liquid and resulted in one of the richest worlds the company has ever built. The forward-looking design made it easy for gamers to come up with new strategies, like training Peasants to become Soldiers or actively exploiting the environment to their Clan's advantage. The Living World feature, for example, allowed for boundless experimentation – and new tactics are being discovered to this day.
Many of the core gameplay principles behind Battle Realms are a natural fit to the card game format, including:
Unit Alchemy
Peasants became Soldiers and Soldiers cross-trained to become different or more elite versions of themselves. The idea that some units can be upgraded to a new class is a gameplay mechanic near-and-dear to Liquid.
Living World
In the PC game, fire would grow and spread on its own — and it could only be put out by water, which could in turn be used to make rice grow faster. Boulders could be pushed downhill to smash towns harboring enemy soldiers. If players ran in the forest, birds would fly up from the trees. Wild horses roamed the land and could be captured and domesticated. The Battle Realms world was a living, breathing universe filled with believable elements — a crucial trait that will certainly make an appearance in the new game.
Battle Gear
Every unit in Battle Realms could get Battle Gear. A Peasant trained in the Archery Range would emerge an Archer, a great anti-personnel Soldier. When taken to the Fireworks Factory, the Archer would emerge a Fire Archer. Fire arrows did very little damage to enemies but great damage to enemy buildings. And so forth. Every unit in the game had combinations that would give them new roles, a perfect match for the card game format.
"The new Battle Realms is the first in a full slate of products based on this very deep, engaging IP," says Holly Newman, CEO, Liquid. "Starting with mobile is the best way to re-introduce the Battle Realms universe to a whole new generation of gamers."
Powered by

Sidelines
Previous Post DC Comics App Released For Google Android Devices
Next Post WordCrasher is OS X Lion ready