Supercow (iPhone) Game Review: Simply Awesome Platforming!
I've played and reviewed quite a number of platforming games on the iPhone, but very few have impressed me like Nevosoft's latest arcade platformer, Supercow. In that game, players take the role of Supercow, out to rescue the inhabitants of Sunny Valley from the clutches of the evil Professor Duriarty.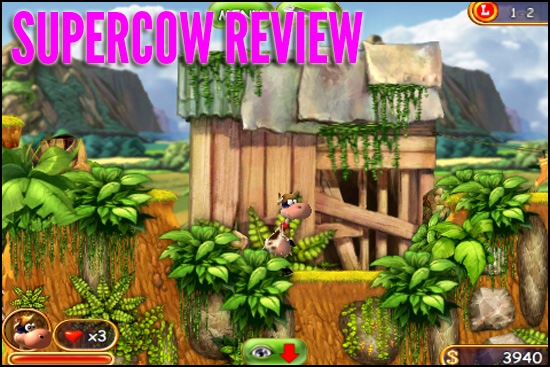 The backstory doesn't stray much from classic platforming storylines (take a look at Super Mario Bros, the game had a plumber rescuing a princess), but what matters is that Supercow has done almost everything right to be an awesome platforming experience.
First up the levels are in a word, gorgeous. I've not seen such detail, vividness, and perhaps, a better word would be lushness, in the level design. The game's level designers and artiste deserve a pat on the back for coming up with such detailed levels that perfectly capture the setting in which the game is based on.
Like Super Mario Bros, players in Supercow collect coins, stomp on the myriad of enemies and even discover secrets. But unlike Mario, the game doesn't have  a time limit when it comes to finishing levels. This allows players to explore the vastness of each level, with plenty of gold coins to reward the inteprid explorer.
One stumbling block on the game though is the fact is that it's too easy. This is probably due to the game trying to appeal to an expanded audience ranging from kids to adults. Supercow is rarely challenged, and despite her having a limited number of lifes, each life has a health bar, meaning that she can actually take in quite a bit of damage.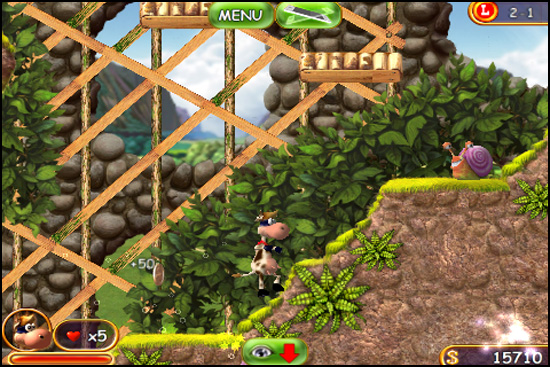 The levels do get tougher and the platforming sequences become more challenging later on; the game rewards core players who stick with it while casual ones can enjoy a linear, if not gentle learning curve into harder levels. Nine Over Ten 9/10 awards Supercow a 4.5 out of 5, simply for being the awesome game that it is.
Supercow is available on the iTunes App Store for USD 0.99 for the iPhone version (click here), and USD 2.99 for the iPad version (click here). A review code was provided to Nine Over Ten 9/10 for the purpose of this review.
Powered by

Sidelines
Previous Post Push-Cars (iPhone) & Push-Cars HD Free For A Limited Time
Next Post Nubee Launches Amazing Looking "Japan Life" City Building Game For iOS