The Fish Dies in the End (iPhone) Gets Featured By Apple, New Update Available!
I just received news from Gutenberg Nero that his iPhone game, "The Fish Dies in the End" was featured by Apple under their "New & Noteworthy Action and Arcade Games"! Thanks guys for all of you who have read the review here at Nine Over Ten 9/10 and downloaded the game. At the same time, he has just released an update for the game based on the feedback he had gotten from players.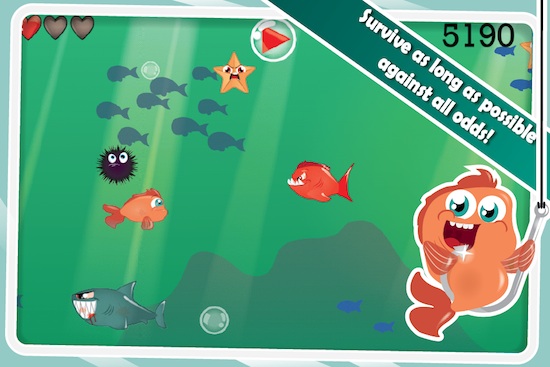 The update adds lots of new features including better placement of enemies and obstacles, more dynamic backgrounds, tutorial screens, better performance, and more. Most notably, there are three new power-ups that should provide more variety and entertainment to the players (and some much-needed help, of course!).
The Clock power-up makes the enemies slower for a limited time, making it easier for the titular fish to survive for more time. The Helmet provides protection against one hit and finally, the Radioactive Worm mutates the fish into a much stronger beast that will be able to get revenge against the enemies.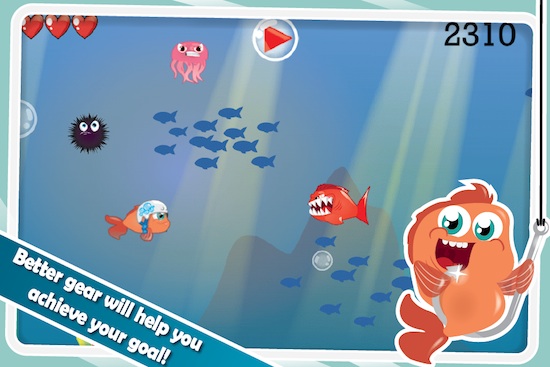 The update is available for free for those who have bought the game; for who have not, check it out over here: https://itunes.apple.com/us/app/the-fish-dies-in-the-end/id418217670?mt=8
Powered by

Sidelines
Previous Post Captain America: Sentinel of Liberty (iPhone) Review: Developers Will Need To Fix This Game
Next Post Xtreme Wheels (iPhone) Review: Trial Bike Racing At Its Best