Winning, Cheating, Losing, and Hauntings in Tiny Tower
I think it was over a beef noodle dinner that my fiance mentioned that she found a way to cheat on Tiny Tower (see our review here), that addictive little cross between Sim Tower, The Sims and Theme Park on the iPhone. And her method was really deceptively simple. Tiny Tower relies on the iPhone's clock to determine stuff like how long is needed before items are restocked or for a new floor to be built.
By just changing the time on her iPhone to several hours ahead and back again she had unlocked instant restocking, instant building, instant profits…….there's a reason why she's known as my better half. Overnight she has about 33 levels on her tower, two more than mine (see the montage below for my tower). This is in less than 1/4 of the time needed by me to achieve the same thing!


Anyways, she did add that cheating did detract some of the appeal of playing the game. I guess you can't have it all. On a personal note, I encountered a quirky bug that wiped out half of the Tower Bux I was saving for the elevator upgrade. I was in the process of restocking an outlet and lo and behold, 30 Tower Bux just went poof! I'm not deterred though, just have to keep on saving.
The inhabitants of Tiny Tower, the Bitizens, make Tiny Tower one of the funniest games I've ever played on the iPhone, no thanks to their postings on their Facebook parody, Bitbook (it does make them sound eerily real). LOL. Check out the postings below, it seems that there's a ghost problem haunting my Bitizens: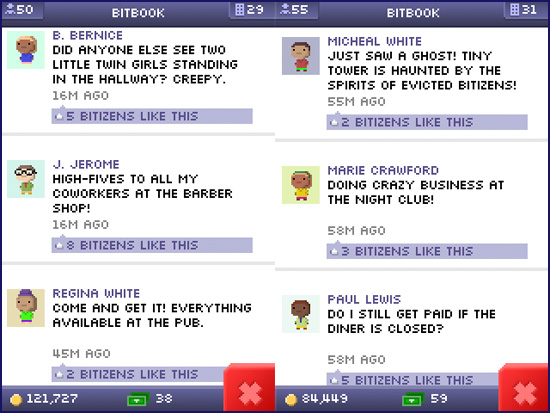 Powered by

Sidelines
Previous Post Fruit Ninja Developer Teams Up With Leading Animation Studio!
Next Post The Incredible Machine (iPhone) Game Review: Simply Awesome Game For The Family