Coladia's Destination: Treasure Island (iPhone) Gets Free Lite Version
Destination: Treasure Island, that pretty looking point and click adventure game for the iPhone by Coladia, has just received a new demo version of the game. Players can now check out the pristine, photo-realistic graphics and environments, inspired by the Robert Louis Stevenson's novel, Treasure Island, without dropping a single dime.
With a unique interactive inventory using object combinations and a new system of knot puzzles, users will have to resolve dozens of fascinating enigmas. In a highly coloured varied and exotic environment, they'll play Jim Hawkins, the hero, to reach the treasure that Long John Silver hide on Emerald Island.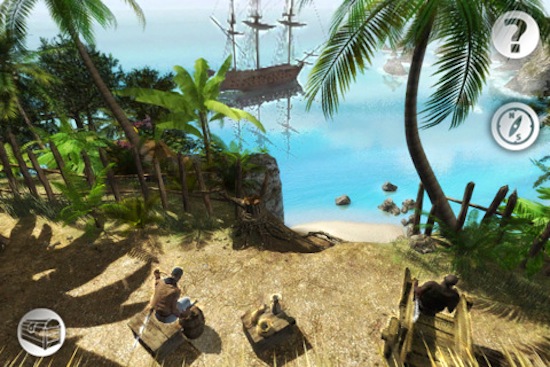 Here's a little bit more on the story:
Four years have passed since the end of the adventure recounted in Robert Louis Stevenson's novel. Jim Hawkins has become an upstanding adventurous young man, attentive to those around him. Imagine his surprise when, one morning, he sees a parrot enter his bedroom window: none other than Captain Flint, Long John's own companion.

The bird brings him a message from his master. In the message the old pirate announces that he has buried a marvelous treasure on the secret isle where he retired : Emerald Island. Jim is going to have to hurry though. Pirates, old enemies of Long John, are on his trail.
The game's thrilling quest is not the only thing to feature prominently (it's the sequel to the novel, just in case you have not noticed), the game also has updated Retina Display graphics for the iPhone 4, and dozens of puzzles for the player to tackle. Destination: Treasure Island Lite 1.0.1 is available today on the iTunes App Store, check it out: https://itunes.apple.com/app/id446626729
Powered by

Sidelines
Previous Post Archetype Publisher Launches First Casual Game for iOS Devices: Matchlings
Next Post First Gameplay Screenshots Unveiled for Skillz: The DJ Game