Zombie Toss Basketball (iPhone) Game Review: An Alternative To Just Shooting Them
You know how in some zombie movies, the zombies are actually hunted down or kept for sport/entertainment? Well, having them hurled through basketball hoops like in PrestoArts' latest iOS game, Zombie Toss Basketball isn't such a bad alternative either and I'm hoping to see a movie adopt this idea.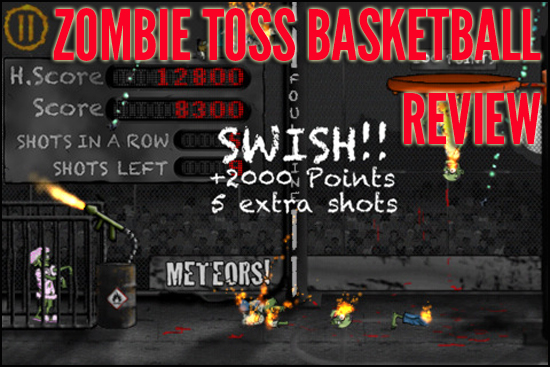 Having given the game a spin, or two, Zombie Toss Basketball turned out to be quite an interesting experience. Players utilise the touch screen to toss flaming (yes, flaming, courtesy of a flamethrower) zombies into a basketball hoop to score points. This unlocks additional hoops and even an air cannon. Hit a scoring streak will also unlock different types of zombies as well.
These chaps come in different weight and sizes so it affects their, well, flight path, to the hoops. The game comes in two modes, the second one being the Unlimited mode which is unlocked when players purchase the full game via an in-app purchase. In this mode, all zombie types are unlocked from the onset along with all the hoops.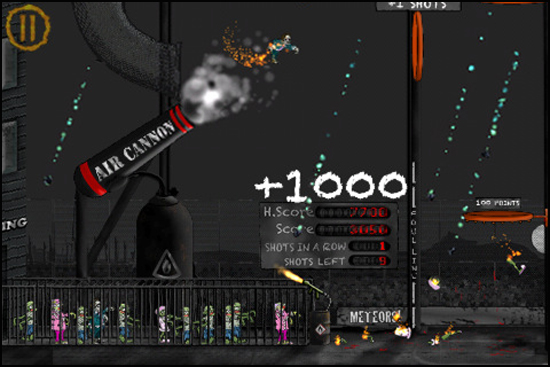 The only problem I have with the game is that the controls are a little iffy. Played on a slower device such as the iPhone 3GS, the game seems to have a hard time determining what I want to do, but this is not the first time I've seen this issue happening in a gesture-based game. However, if you are looking for something different to do with zombies (other than just shooting them), here's a bullet-free and surprisingly fun game to pick-up.
Nine Over Ten 9/10 awards Zombie Toss Basketball a 3.5 over 5. Check out the basic game as it is free before deciding on purchasing the full game for a dollar via in-app purchase. You can download the game over here: https://itunes.apple.com/us/app/zombie-toss-basketball/id436247664?mt=8
Powered by

Sidelines
Previous Post Transformers: Dark of the Moon Movie Review
Next Post Ionocraft Racing (iPhone) Game Review: Makes You Wanna Go FASTERRR…