Zzed (iPhone) Review: Amazing Shmup/Puzzle Bobble Mash-up
I had to pry myself away from the really addictive Tiny Tower (check out our review here), in order to review Nevosoft's latest iPhone game, Zzed. And you know what? I'm glad I did. This space-based shmup turned out to be a very interesting mash-up of styles. You can find gameplay influenced by the likes of Asteroids and match-3 games such as Puzzle Bobble (a.k.a Bust-a-Move to U.S gamers old enough to remember).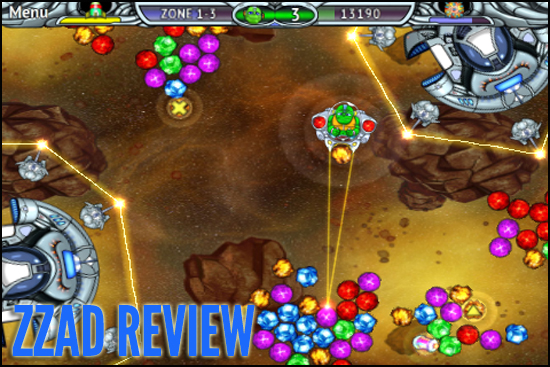 The game wasn't joking when it let slip in an early cutscene that it was going to be tough. Players play the role of a young space garbage collector tasked with getting rid of meteoroid fields by shooting meteorites into 2 or more meteorites of the same colour in order to destroy them. The levels in the game are pretty intense affairs as the meteoroid fields close in on the player from all sides.
Thankfully there are a whole bunch of power-ups that the player can make use of. One particularly useful one repulses the meteoroid fields away from the player's ship in order to buy time. Other power-ups deliver destruction with extreme prejudice to the meteoroid fields, and this allows for some seat-of-the-pants action as players try to get themselves out of a pinch.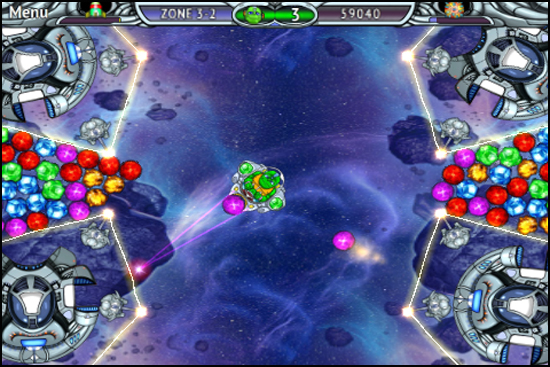 Zzed has 60 levels to keep players occupied, and Game Center integration to boot. I must say I've not seen such a beautiful/challenging/exciting mash-up between match-3 and shmup gameplay styles and fans of either genre should really give the game a shot. Nine Over Ten 9/10 rates Zzed at a mind-blowing 4.5 out of 5. GREAT STUFF!
Zzed is available on the iTunes App Store for just USD 0.99. Check it out over here: https://itunes.apple.com/us/app/zzed-match-3-cosmic-shooter/id431892604?mt=8. A review code was provided to Nine Over Ten 9/10 for the purpose of this review.
Powered by

Sidelines
Previous Post MonkeyPaw Brings Back Import Action on PSN With Rapid Angel and Yakiniku Bugyou
Next Post DotEmu/Activision Deal: Gabriel Knight Series now in Multilingual Editions