Indie Game Developer Interview: Swag Soft (Singapore)
Today, our interview segment features Swag Soft, the guys behind the rather brilliant Lamebo VS. Zombies game on the iPhone. If you have not checked out the game, I recommend that you do so over here. Without further ado, check out the following interview with Aldric Chang, co-founder of Swag Soft. There's plenty of stuff as he shares with us on Lamebo and upcoming games from Swag Soft!
Nine Over Ten 9/10: Tell us more about yourselves and how you started developing mobile games
Aldric Chang (A): Chee Yong and myself are the founders of Swag Soft – a mobile app development company based in Singapore. Previously we worked together on developing a virtual world for kids called The Travels of Wiglington and Wenks. We found a lot of synergy in the collaboration and developed a good working relationship and friendship.
We saw the opportunity in mobile apps and decided to set up Swag Soft.We started off developing novelty apps and applications for companies. After about 10 applications later, we felt that we were ready to develop our first game app – and thus Lamebo VS. Zombies was conceived. Swag Soft is currently a 10 man team.

9/10: What was the idea behind Lamebo VS. Zombies ?
A: Initially we wanted to do something really simple, more of a warmup really as it was our first attempt at developing an IOS game. We were searching for ideas when Chee Yong suggested we could do a simple tap-shooter game where you shoot down enemies attempting to get near you. I liked the idea but felt the need to jazz it up with a character with a strong personality, come up with a storyline with lots of attitude and pepper the game with wacky humor.
So with suggestions from Chee Yong and our Creative Visualizer Edi – I cooked up the bizarre story of a mutated lamb called Lamebo who survived the effects of a horrible science experiment gone wrong but must now defend himself against the other victims – basically hordes of zombified animals and villagers. In fact, we've written an article on how we got started on Lamebo – https://swagsoft.com/blog/lamebo-vs-zombies/lamebo-vs-zombies-how-it-began.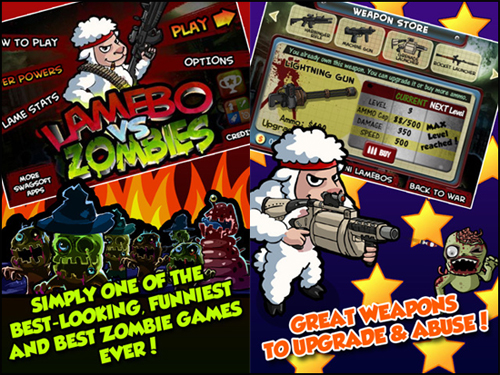 9/10: How has the response been so far for Lamebo VS. Zombies on the iTunes App Store?
A: We've received more than 200 ratings on the US iTunes store, most of them positive and averaging 4.5 stars. We've been featured in New and Noteworthy in many stores worldwide. We've also received pretty rave reviews from about 10 popular websites so far.
9/10: Could you share with us a little on what you'll be working on next?
A: Certainly! We are currently working on 4 other titles, to be rolled out over the next few months. The one likely to be rolled out next is called Dumb Dragon which involves a clumsy dragon who goes about marauding towns and villages from ancient medieval times.
We are keeping a blog on the development – https://swagsoft.com/blog/dumb-dragon/developing-dumb-dragon-1. We are very excited about this project because the premise is interesting and everything from artwork to development are turning out really nicely.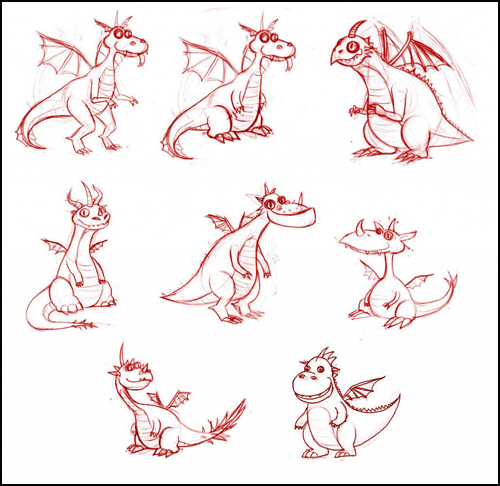 The other 3 titles are even more exciting. They are all huge games with hundreds of beautiful graphics. We are working with a famous local arthouse called Imaginary Friends on one of them – a multiplayer game where the Player will have to build up his own kingdom, hire heroes and build armies to defeat other Players. The concept may sound simple, but we promise a really unique and engaging game system plus truly spectacular graphics.
Another game involves the Player taking on the role of an amateur musician and climbing his way to stardom. He will have to busk in parks and take on gigs in pubs to keep his passion alive and build up a reputation. If he's persistent and hardworking enough, he may get the chance to be invited to TV stations and finally be able to launch his own albums or hold a huge concert in a stadium.
The last game is also a multiplayer game where players will be able to challenge each other to a duel. Unfortunately that's as much as I can say for now or I may be giving away too much secrets! 🙂
——-
For more about Swag Soft, check out their website over here.
Powered by

Sidelines
Previous Post Lamebo VS. Zombies (iPhone) Game Review: Simply AWESOME
Next Post Rodeo Games' Hunters: Episode One (iOS) Reaches 1/2 Million Downloads, Goes On Sale