Tiny Tower (iPhone) Revolution: Addictive Little Tower Building Game
One game had me transfixed over it for the entire day and it's Nimblebit's latest release for the iOS, Tiny Tower. The game can be best described as a mash-up between SimTower and Theme Park. Players are tasked with building up a tower floor by floor.
Each floor can be set to become one of several types, which includes residential, food, service, recreation, retails and even creative. The stores and shops that appear depend on the particular floor type.This will attract bitizens, to come and stay, work and play. Players also are tasked with assigning jobs to residents and keeping the various shops well stocked.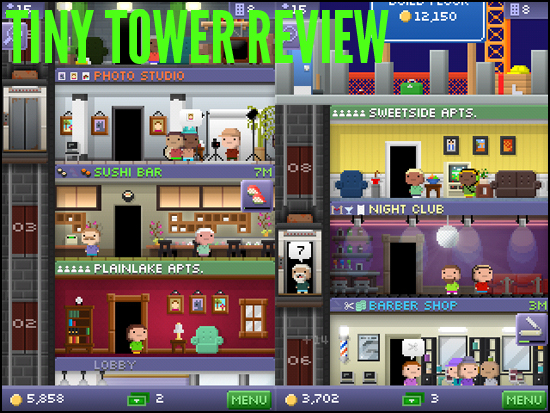 The money earn can be used to purchase more stock for the shops, or build up new floors in the tower. Another form of currency is the Bux. Players get Bux through elevator tips, performing tasks like helping to look for a particular tenant or purchase additional Bux through the in-app store.
Bux is like grease in a car engine, helping to speed things up or can be converted to money. The Bitizens on the other hand, are cute little fellas and like tenants in real-life apartments, they have hopes of landing their dream jobs (and no amount of Bux can change their minds). Match them with the right job and that particular shop or store will get some small bonuses.
Aside from the mood icons (ala Theme Park), there's also the Bitbook (the Bitizens' version of Facebook) which gives some insight on what each of them is thinking at the particular point of time. The Stats section keeps track of the rate of sales and the demand for the the different kind of stores and services by the Bitizens.
The entire game is presented in 8-bit retro style right up to the menu items, lending a certain charm to it. The gameplay  is really addictive as there's always something to do. This freemium game had me looking over my iPhone once every hour for one or two minutes, as there's quite a bit of micro management going around.
I think I'm well on my way to get several achievements on Game Center if I continue this throughout the night. In any case, Nine Over Ten 9/10 awards Tiny Tower with a 4.5 out of 5 rating. SIMPLY AWESOME! Check out the game over at the iTunes App Store: https://itunes.apple.com/us/app/tiny-tower/id422667065?mt=8 and what are you waiting for? IT'S FREE!
Powered by

Sidelines
Previous Post Get These Newly Free-to-Play Games for the 4th of July Weekend, If You Have Not Already
Next Post Independence Day Sales – iPhone Games To Buy On The Cheap