Trucks & Skulls NITRO (iPhone) Review: Move Over Angry Birds, It's Monster Truck Mayhem!
I think I've found a much better alternative to Angry Birds. Appy Entertainment's Trucks & Skulls NITRO for the iPhone replaces the birds with a variety of monster trucks and the pigs with skulls and manages to be just as awesome, and at the same time, the game employs a very strong puzzle element, leaving, IMHO, the competition in the dust.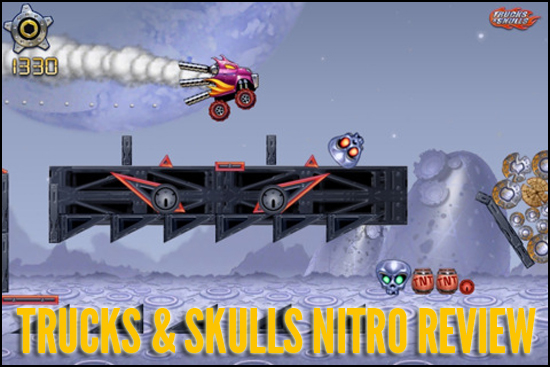 The plethora of monster trucks are unlocked by completing levels in the game. Some of these trucks do more than just ram stuff after being launched from a ramp, at least one of them drop bombs while another has more in common with a suicide bomber with huge explosions triggered by the player.
And speaking about levels, there's something devilish (in a good way) with them in a sense that the later levels will require plenty of thinking on the part of the player. Players are rated by the number of cogs they receive upon completing a level, with the maximum being 4 cogs. To get that, you'll probably need to blow everything up or use just ONE truck to destroy all the skulls in that level or hit a certain points threshold.
The game throws in random cheeky gold challenges to dare players to get 4 cogs in a particular level and players have one attempt to do so without resetting the level. There are 200 levels available in the game and the coins earned can be used to purchase stuff like trucks mods.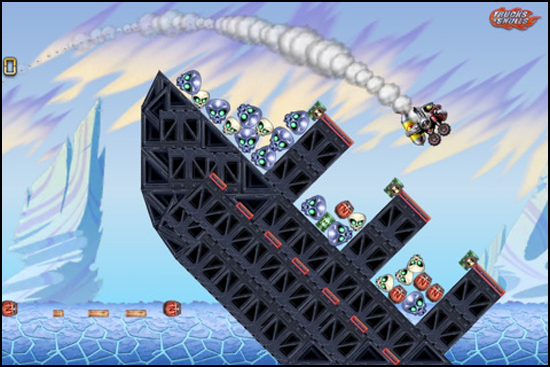 Trucks & Skulls is my new favourite game and I'm obsessing over the levels. The game comes with Game Center, so leaderboards and achievements are both taken care of. With this much value, there's not excuse to not get the game. Nine Over Ten 9/10 rates Trucks & Skulls at an awesome 5 out of 5. EXCELLENT STUFF!
Trucks and Skulls: NITRO is available on the iTunes App Store for just USD 0.99. Check out the game over here: https://itunes.apple.com/us/app/trucks-and-skulls-nitro/id391137569?mt=8. A review code was provided to Nine Over Ten 9/10 for the purpose of this review.
Powered by

Sidelines
Previous Post Eminem To Star In Batman: Arkham City As Robin, The Teen Wonder
Next Post Kona's Crate (iPhone) Game Review: Jet Powered Platforming Goodness