Ongoz Games' Line Up Goes Free Starting With Circus Pain (iPhone)
This is a pretty interesting experiment by the makers of Circus Pain (check out our review of the game over here), Ongoz Games, in an attempt to display ads to users without jeopardizing the gaming experience. They are now going with a free approach for their entire lineup of games by featuring interstitial ads. These ads will only display once at the beginning of the game, and once the user has discarded it, the ad will not show again throughout the rest of the game.
Starting with Ongoz' flagship title, Circus Pain 1.1 is set as free from June 18th onwards. This physics game of a human cannonball that makes its way through different levels to reach the Mega Dome is the first to feature the above-mentioned interstitial ads. Check out the press release below for more details: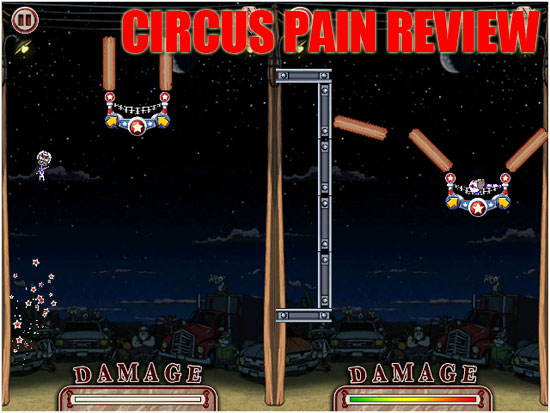 Santiago, Chile – Ongoz Games has decided to take a free approach on all their games. Starting with their flagship game Circus Pain 1.1 to be set as free from Saturday June 18. The games will remain free forever and will have an ad based business model. Ongoz Games are studying the best way to present the ads in the least intrusive way possible. Different methods will be analyzed during the upcoming months to maintain the best user experience.
Recent research suggests that boot-up interstitial ads generate the highest click-through rate in applications. Circus Pain, a physics game of a human cannonball that makes its way thru different levels to reach the "Mega Dome", will be their first game featuring interstitial ads. They will be displayed only once at the beginning of the game.
Once the user has discarded the ad it will not be shown again during the rest of the game. Ongoz believes this is one of the best ways to deliver ads to users, having their full attention for a moment and then letting them continue without interruptions. The rest of the game lineup from Ongoz will follow in the coming months making the company rely exclusively on ads to generate a revenue.
Pricing and Availability:
Circus Pain 1.1 is free, starting June 18, 2011, and is available worldwide exclusively through the App Store in the Games category. Check it out over here: https://itunes.apple.com/us/app/circus-pain/id424274249?mt=8
Powered by

Sidelines
Previous Post Green Lantern Movie Review: Sheer Disappointment in Shades of Green.
Next Post Christopher McDougall: Born to Run: A Hidden Tribe, Superathletes, and the Greatest Race the World Has Never Seen (Book Review)