Shadegrown Games Unveils New Level, Video for Music Shooter Planck
For the first time, I've no inkling on which platform an upcoming indie game is supposed to be launched on, but Shadegrown Games, helmed by Matthew Burns, an industry veteran with stints on both CoD and Halo franchises, have mentioned that they are still evaluating which platform(s) to launch their beauty of a game, Planck.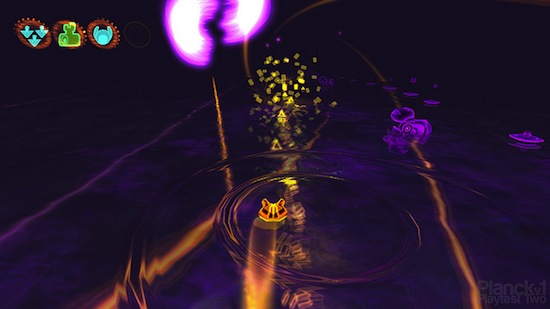 For the time being, they have just unveiled a new video showcasing the latest additions to this highly anticipated indie title, which can be classified as being in the "music game" genre. Given the creator's background in FPS franchises, it's not surprising to see the core gameplay element involves shooting something. Check out the press release below for more details:
Shadegrown Games Unveils New Level, Video for Music Shooter Planck
REDMOND, WA – June 15, 2011 – Shadegrown Games, the studio behind critically-acclaimed music game Planck, has created a new video showcasing the latest additions to the highly-anticipated indie title. The new gameplay video focuses on a brand new level with fresh art, music and another look at the game's core gameplay mechanic: making beautiful music by shooting everything in sight.
Planck's new level features a faster-paced, harder-edged sound and clearly demonstrates the game's unprecedented integration of music and gameplay — where each piece of music gets its own unique visualization designed to precisely match the aural component on the screen.
While Planck is a "music game," it does not depend on timing like many of the other staples of the genre. Instead, it lets players interact with original music through arcade-proven shooting mechanics. In the world of Planck, players release waveforms contained in various creatures by hitting them with energy, essentially creating music from scratch by playing the game like a traditional shooter. Planck offers players of all ages — musically gifted or not — a rewarding experience via sharp, colorful graphics and booming sound.
"I think Planck makes a meaningful contribution to the future of music games. We see it as the natural follow-up to titles that rely solely on timed button presses meant to match pre-recorded, licensed music content," says Matthew Burns, founder of Shadegrown Games and project lead for Planck. "There's so much yet to explore where music and gameplay meet; it's one of the most exciting areas you could be working in as a developer right now. We can't wait to see what gamers make of it."
For more information — including regularly updated developer diaries and an upcoming opportunity to playtest a beta version of Planck — please visit https://www.shadegrowngames.com/
Powered by

Sidelines
Previous Post Indie Game Developer Interview: Edwin Razafimahatratra (Robotalism Games)
Next Post Appy Entertainment Debuts Trucks & Skulls NITRO for iOS Devices