GAMEVIL's Skipping Stone Makes a Splash On iTunes App Store
The guys at GAMEVIL are pretty busy this week, first up with the FREE release of Kami Retro for the Android Market, and now, the release of Skipping Stone, their newest casual game for the iOS platform (iPhone, iPod touch and iPad) on the iTunes App Store. This game is actually a remake of GAMEVIL's earlier games for mobile phones, and should be interesting on how the gameplay transitions over to a more modern experience. Check out the PR below for more details:
GAMEVIL's Skipping Stone Makes a Splash onto iTunes App Store: New Casual Game builds upon Award-Winning "One-Touch" Classic
LOS ANGELES, CA — June 16th, 2011 — GAMEVIL, a leading mobile game publisher and developer, announced its newest casual game Skipping Stone, is now available on the App Store for iPhone, iPod touch, and iPad. In the game, players use just a single finger to tap and keep their Skipping Stone bouncing along the water. Timing the taps just as the stone hits the water's surface will make it skip higher.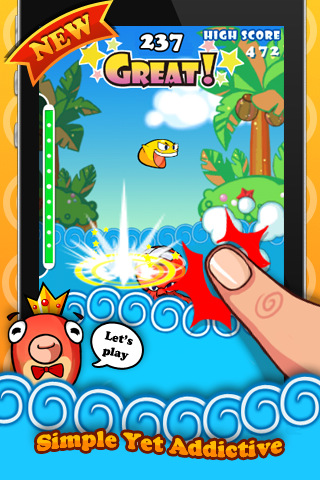 Sea creatures help and hinder along the way as players collect coins and items for bonus skipping boosts. Featuring colorful animated worlds, eye-catching effects, and achievements and leaderboards through Game Center, Skipping Stone is a simple yet addictive one-touch casual game for players of all ages.
"Skipping Stone was one of GAMEVIL's award-winning titles for mobile handsets many years ago and players have continually asked for the classic experience on the iOS", said Kyu Lee, VP and Head of GAMEVIL USA. "We're excited to bring this new game built from the ground up for iPhone, while keeping it true to the winning ideas and simple fun gameplay of its roots."
Skipping Stone is available now for $0.99 from the App Store on iPhone, iPod Touch and iPad, or at https://itunes.apple.com/us/app/skipping-stone/id426081628?mt=8. For more details, please visit www.gamevil.com.
Powered by

Sidelines
Previous Post Appy Entertainment Debuts Trucks & Skulls NITRO for iOS Devices
Next Post Smashed MacBook Air For Sale After Girlfriend Catches Guy Cheating On Her