Indie Game Developer Interview: Edwin Razafimahatratra (Robotalism Games)
We've got an interesting number of posts lined up tonight, and to kick things off, we have an interview with Edwin Razafimahatratra, co-founder of Robotalism Games, the indie studio that made the recently-reviewed Mecapix for the iPhone. The game has received positive praise not only from us (check out the review over here), but also from customers on the iTunes App Store.


Nine Over Ten 9/10 (9/10): Tell us more about yourself and how you started developing games
Edwin Razafimahatratra (ER): My name is Edwin Razafimahatratra, I live in Paris, France and I founded Robotalism Games with Agnieszka Bacior the graphic designer of Mecapix. I started working in the game industry, 10 years ago, back then I was working at Virtools and we were developing a 3D middleware for a variety of platforms.
Later, I joined a small video game company as technical director. The company doesn't exist anymore, we were mainly working on Nintendo DS titles. And now, I am developping iPhone games.
9/10: What were your inspirations behind coming up with Mecapix?
ER: We wanted to do something abstract and colorful, something fun and original. Our first thought was to make a action puzzle game. Tétris was a starting point because it is the perfect incarnation of the action puzzle genre. Also, I wanted the game to benefit from the unique potential of the iPhone touch screen, and did not want to use a virtual pad for controls. The mix of these two ideas provided the basis for Mecapix.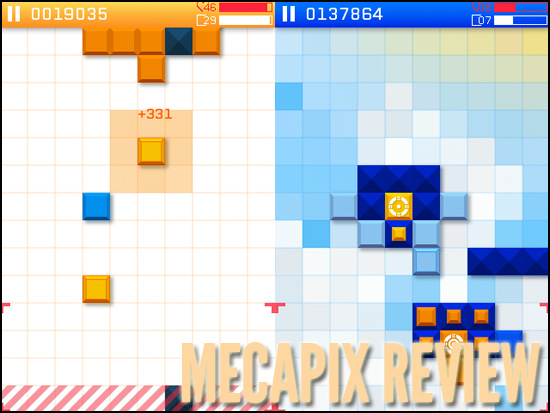 9/10: What were the challenges you faced coming up Mecapix, and how did you overcome them?
ER: The most challenging part in Mecapix development was definitely the level design! Not only on the playability aspect but also in the graphic design of MECAs (enemies in the game). Because of the main constrain: a size screen of 10×14 "PIX" resolution; it was a challenge to renew the content for each level!
I developed a level editor, which allowed us to build MECAs and script their behavior. It was a smart move because this editor saved us a lot of time. However, the process of designing and tuning each MECA and each sequence has been a long and difficult task. The other aspect we were afraid of was marketing! For that job, we contacted Laurent Mascherpa from Massive Finger in order to publish our game. Again it was a good decision.
9/10: How has the response been to Mecapix on the App Store?
ER: Some people were waiting for something like Mecapix, something new and fresh. We've had good support from the Touch Arcade forums community, as well as from the iOS developer community. Simon Flesser from Simogo, makers of the iPhone success Bumpy Road is a great supporter of Mecapix 🙂 Nonetheless, we still have some work on the game to do to reach the heart of a broader audience!
9/10: Finally, can you share with us some of your upcoming plans?
ER: A first update is already in the work. We want to tune the difficulty a little bit. Add OpenFeint support. Bring Universal App support for iPad. Among other things. We also have other games ideas, but updates first!
More on Robotalism Games:
Robotalism Games is a video game studio formed in 2010 with the focus on creating games with original and stylized visual universes and innovative gameplay mechanics, and is the developer of Mecapix (https://itunes.apple.com/us/app/mecapix/id406877624?mt=8). Check out their site over at https://www.robotalismgames.com/.
Powered by

Sidelines
Previous Post Keno Pro HD Launched For iOS Devices
Next Post Shadegrown Games Unveils New Level, Video for Music Shooter Planck