Hard Lines (iPhone) Review: Light Cycles + Snake Hybrid ROCKS
I finally got to review Spilt Milk Studios' latest game for the iPhone, Hard Lines. It seems that the iOS 5 beta is a little finicky when it comes to running apps, so it's no fault of the game developer that the game wasn't running (at first), but now it seems fine (blame it on me for the sheer curiosity that led me to install this beta iOS build).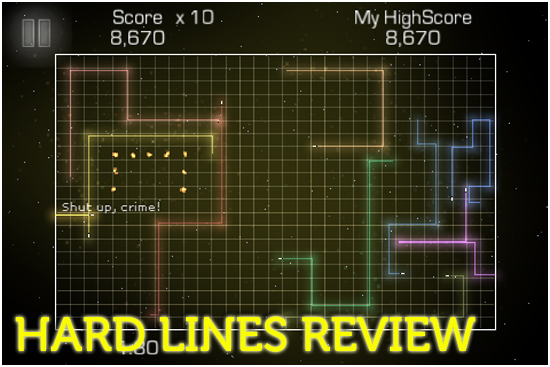 In any case, to cut a long story short, Hard Lines rocked my socks off. The game is like a top-down hybrid of Tron's lightcycles and the venerable Nokia game, Snake. I love the graphical sheen from the Tron side of the family merging with the simple gameplay courtesy found in the Snake games. Unlike Snake though, there are plenty of game modes to choose from and a variety of control schemes to suit almost any kind of player.
In the game, players control Lionel, (yup, the player-character, or rather, player-line, has a name) in a bit to destroy AI-controlled opponents which go about in lines as well and going after glowy bits that appear from time to time. There are 7 game modes available, my favourite being Survival. There's also the Time Trial, and the Gauntlet, which literally has you running the gauntlet with dozens of other lines.
One other thing to note is that the game has a pretty good retro-inspired soundtrack, which is a blast, and goes extremely well with the game. And unlike other Snake/Lightcycles games that I've played on iOS devices, the controls here are really, really tight. I'm really amazed at the level of control that I have, and pulling off tight u-turns is a relatively simple thing to do. Check out the shots on this review, you notice there's chatter among the lines….and it's a nice and funny touch.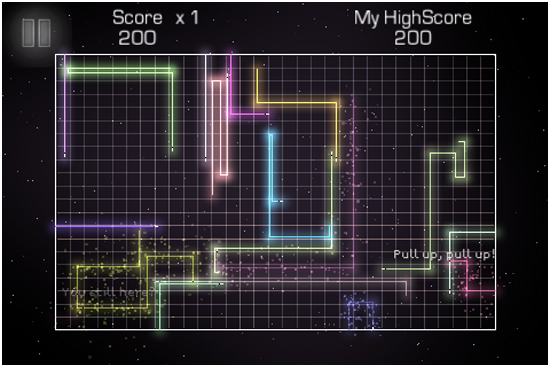 Hard Lines deserves a lot of credit for being an excellent retro-inspired arcade game. There are not many issues that I can think up on this game but one glaring omission would be Game Center leaderboards and achievements. I hope to see them in the next update as they kinda complete the game.
Nine Over Ten 9/10 awards Hard Lines with a 4.5 out of 5. EXCELLENT! The game is available on the iTunes App Store at a special price of USD 0.99. Do check it out over here: https://itunes.apple.com/us/app/hard-lines/id440571567?mt=8.
A review code for Hard Lines was provided by Spilt Milk Studios to Nine Over Ten 9/10 for the purpose of this review.
Powered by

Sidelines
Previous Post Popular iPhone Game Doodle Grub Gets Timely Upgrade, Goes Multiple Mobile Platforms As Well
Next Post Keno Pro HD Launched For iOS Devices