Stinky The Cat (iPhone) Game Review
Stinky the Cat doesn't like getting wet, and needs your help to stay dry in Gaming Minute's latest game for the iPhone, which takes after its lead character for the title. In the game, players are supposed to help keep Stinky dry while it is raining, this is done by moving Stinky left or right in a particular level by tilting the iDevice.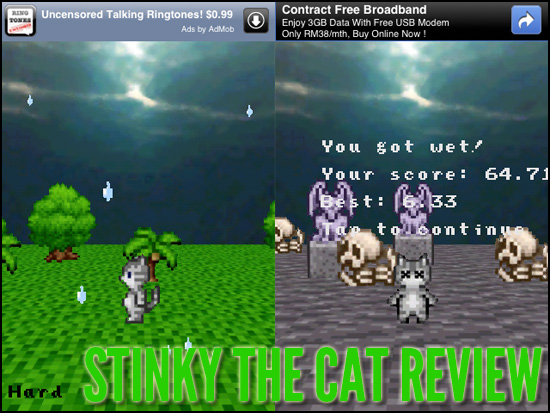 There are several different levels that players can pick from, with each of them boasting really different backgrounds. There are several different difficulty levels that mainly effect how fast the rain falls. The game has a retro-like 8-bit feel to it, along with a midi soundtrack which completes the whole retro feel.
At this juncture the game still feels a little raw, but there's definitely room for improvement, having experienced a pretty good time with the initial gameplay. Going the free/ad-supported route certainly helps eliminate the entry barrier for new players to check out Stinky the Cat. Nine Over Ten 9/10 rates Stinky the Cat at a 3.5 over 5. Do check it out over here on the iTunes App Store: https://itunes.apple.com/us/app/stinky-the-cat/id436594420?mt=8
Powered by

Sidelines
Previous Post Duke Nukem Is Back, And With Him, Duke Nukem Forever Comic Book #1
Next Post Pig Shot (iPhone) Gets 1 Million Downloads, Free Download Offer Goes Into Overtime