9magnets LLC Releases Hero Defense Redux (iPhone) For Free!
Hmm, Hero Defense Redux 1.0 for the iPhone looks really interesting and futher more it's available on the iTunes App Store for free. Basically gamers control a singular hero (either a warrior or a wizard..wait..no elves?), battling tyrannical dwarfs, rebuild defense towers, and learn new spells in a quest to save their castles. Check out the following press release for more details, and a gameplay video: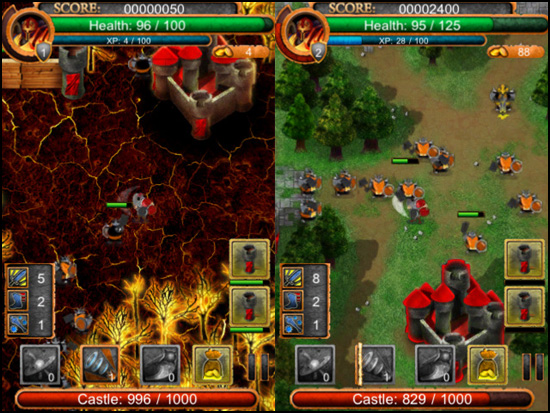 Portage, Indiana – 9magnets LLC announces the release of Hero Defense Redux 1.0 for iOS. An epic battle between good and evil on the iPhone and iPod touch, now available by 9magnets LLC. Available for free in the iTunes App Store, Hero Defense Redux is a game of strength and strategy. Fight as either the Warrior or Wizard against legions of dangerous enemies over four fantasy worlds and multiple levels of difficulty.
With GameCenter support for leaderboards and achievements, as well as In-App Purchase support, Hero Defense Redux is an immersive experience for gamers on the go. Through the game, users will travel from the lush forests of Hunters Glen to the blistering fires of Burnwood. Strong enough to beat through each difficulty? Unlock Meatgrinder and fight against increasingly difficult opponents on each level.
"We truly believe that Hero Defense Redux is one of the deepest and most enjoyable free games on the iOS App Store. With two playable characters, four unlockable maps, multiple difficulties, leaderboards, and achievements, you'll be stretched to find a better value in the App Store." said 9magnets co-founder Cameron Banga.
Hero Defense Redux is the first in what hopes to be a long line of games in the series by 9magnets LLC, with further iPhone releases planned along with potential upgrades to the iPad. Hero Defense Redux is the second game release by 9magnets, following up on their iPad launch title Tap Blaster HD.
Pricing and Availability:
Hero Defense Redux 1.0 is free and available worldwide exclusively through the App Store in the Games category. Check it out over here: https://itunes.apple.com/app/id435866813
Powered by

Sidelines
Previous Post Heavyweight Champion David Haye Makes iPhone Game Debut, In Rather Bad Taste
Next Post MultiPong (iPhone) Soundtrack Up on iTunes, Game Goes For Free