Mecapix (iPhone) Game Review: I Bet You Have Not Seen Anything This Outstanding!
I've just played a vertical shmup like no other on the iPhone, or perhaps any other mobile device. While looking rather retro-inspired (all the way from the menus, to how the actual gameplay looks and sounds like), Massive Finger's Mecapix has brought a refreshing take to the tired shmup genre.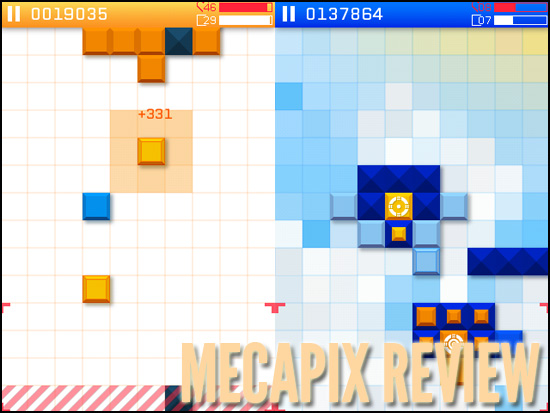 In the game, players have to defend themselves from the invading MECAs, which somehow look strangely like the Tetriminos from the classic title Tetris. They even move like as if there is an unseen player (well, a pretty vicious AI) controlling them, coming down from the top of the screen and moving left, right or otherwise, all over the place.
In order to counter them players have to draw their own blocks that rise up from the bottom of the screen to destroy the incoming MECAs. The game makes good use of the iPhone's touch screen like no other shmup and some of these Mecas take more than several layers of blocks to destroy (not to mention they move about), making it an interesting challenge to get rid of them before they hit the bottom of the screen.
There's a limit to the number of blocks that can be drawn by a player at a particular time, but thankfully this number recharges over time. Players however will have to be smart to make use of the power-ups that come down along with the MECAs. Some are bombs, while some are lasers that destroy rows of MECAs like a hot knife through butter.
Massive Finger certainly has a winner in Mecapix, the retro-inspired graphics are really cool to behold. Players will have no shortage of replay value as the game has 27 levels, and has two game modes. I really enjoyed the gameplay, never would I have though drawing what is to be the equivalent of Tetriminos to destroy incoming MECAs would be this crazy or fun.
This game should be experienced by any self-respecting shmup fan. Nine Over Ten 9/10 awards the game with a 5 out of 5. Mecapix is certainly OUTSTANDING! The game is available on the iTunes App Store for just USD 0.99, check it out over here: https://itunes.apple.com/us/app/mecapix/id406877624?mt=8
A review code was provided by Massive Finger to Nine Over Ten 9/10 for the purpose of this review.
Powered by

Sidelines
Previous Post Game Developer Interview: Apprica (UK)
Next Post Sony's Welcome Back Program For Malaysian Gamers Kinda Suck