Bruce (iPhone) Review: Jumping Cabbage Eating Turtles Batman!
I used to have a couple of small tortoises and yup, those chaps seem to love cabbage a lot. But never in my life would I expect to review an iPhone game in which the main character is a turtle and it's the player's task to get him to as much cabbage as possible. LOL.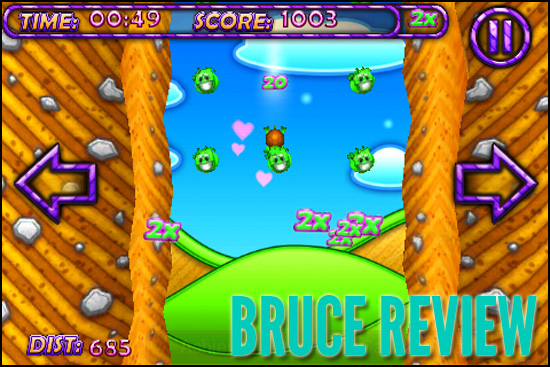 Fervent Interactive's latest game for iOS devices, titled Bruce (it's the turtle's name), plays a bit like an inverted Mega Jump in which instead of jumping up, Bruce is falling through a canyon filled with cabbages. As Bruce is already the subject of gravity, players will have to steer him using the simple controls located on either side of the screen to rich pickings of cabbages before the timer runs out.
Players are judged on how well they perform by the number of points collected (from the number of cabbages collected) and also by the distance covered in the turtle's jump down. There are power-ups along the way that help boost the speed of the fall and on some occasions, certain u-shaped obstacles help Bruce defy gravity to get to some hard to reach places (and thus, more cabbages).
The game turned out to be a lot of fun for me and the simple gameplay is very easy for just about anybody to pick up. And unlike the rest of its ilk in the same genre (e.g. Doodle Jump, Mega Jump etc), Bruce features  3D graphics and although it loses out on the vibrancy usually associated with 2D games, the game still looks pretty and the subtle 3D effects are actually quite cool.
I'm however still a little disturbed by the fact that a turtle is jumping down a canyon. How bout having him deploy a parachute when the time is up? Bruce comes with Game Center connectivity, taking care of both online leaderboards and achievements. For such a fun and complete package, Nine Over Ten 9/10 awards Bruce with a 4 out of 5 rating, and it certainly deserves to be checked out.
The game is available on the iTunes App Store for USD 0.99. Check it out over here: https://itunes.apple.com/us/app/bruce/id428404371?mt=8&ls=1. A review code was provided by Fervent Interactive to Nine Over Ten 9/10 for the purpose of this review.
Powered by

Sidelines
Previous Post Mobicle Scores Again with Goal Battle for the iPhone