SPV Mobile Launches Heroes of Might and Magic Tribute Izar 1.0 for iPhone
Imitation is the ultimate form of flattery? Then the guys from the now defunct New World Computing should be proud that their venerable series, Heroes of Might and Magic has inspired SPV Mobile to release Izar 1.0 for iOS devices, a new retro-styled, turn-based, strategy RPG. Check out the press release below and see whether you can identify the similarities. I for one am excited about the game and can't wait to review it:
St. Petersburg, Russian Federation – SVP Mobile today is pleased to introduce Izar 1.1 for iOS, their new retro-style, turn-based, strategy RPG. Set in an ancient, mythical kingdom, the game is an epic saga about a knight who returns home after a long journey to find his castle partly destroyed and his army scattered.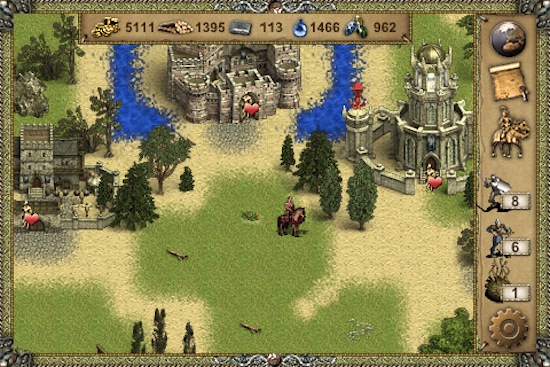 The role-playing aspect of the game involves spells, quests, and journeys to help restore the lost symbols of Magic, Arrow, and Sword to the castle. Whenever combat is required the game switches to turn-based, tactical mode. Reminiscent of classic RPGs such as Heroes of Might and Magic, Izar includes magic, combat, castle building, training and equipping soldiers, and managing monetary resources.
Played in landscape mode, the game launches with a parchment scroll that establishes the story and goals of the game. "The Way to Home – You are back to your castle after long months of traveling across distant lands to find it partly destroyed and your army scattered. The magic tower is no longer of any help. As your elite warriors were leaving the castle, they lost the symbols of Magic, Arrow and Sword. You must bring them back to the castle."
Like the best RPGs, the game is highly detail-oriented. Knights, elf archers, dwarfs, paladins, and beholders may be recruited for the player's army, and each has his own Health and Attack values, as well as Price. There is a wide variety of armor and weapons available to increase the power of soldiers under special, specified circumstances. Also present are numerous, danger-filled locales presenting unique challenges and rewards. Castle upgrades bestow additional capabilities to the player's troops. Games may be saved and resumed at a later time, allowing for protracted, strategic gameplay.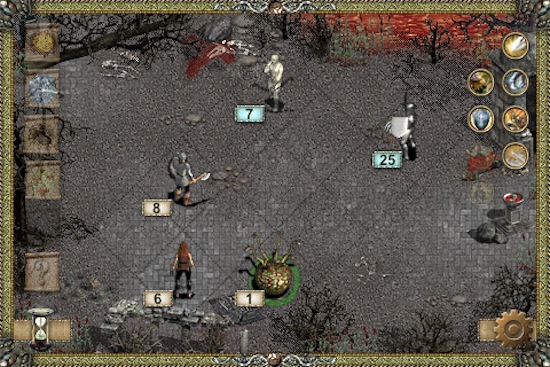 "In creating Izar we sought to combine the best of magical RPGs and turn-based combat games," stated Sergey Voronov. "Spend a few hours listening to Renaissance music and the chirping of birds in the forest, as you ride across the countryside on noble quests, seeking victory and the return of balance to your kingdom."
Pricing and Availability:
Izar 1.1 is $2.99 (USD) and available worldwide through the App Store in the Games category. Check it out over here: https://itunes.apple.com/app/id436930779
Powered by

Sidelines
Previous Post Danmaku Unlimited (iPhone) Review: Excellent Bullet Hell Shmup
Next Post Save That Fish (iPhone) Game Review: Jumping Fish is Fun!