Farkle Dice for iPhone and Android Rolls Past Half A Million Downloads
The mother of all randomness… I reserve this term to describe any games involving dice, but it doesn't mean I don't like them. LOL. And apparently plenty of people share the same sentiment as me since Smart Box Design announced today that their chart-topping and highly entertaining game, Farkle Dice for the iPhone has been downloaded more than half a million times. The game involves players rolling a set of six dice (or should I say die) and can continue rolling as long as their roll continues to yield points.
For more details on the game and the mechanics, check out the press release below:
Bellingham, Washington – Smart Box Design today is pleased to announce the chart-topping highly entertaining game Farkle Dice for iOS and Android has been downloaded more than 500,000 making it one of the most successful dice games available. Farkle offers players an opportunity to challenge friends or compete against a variety of "intelligent" computer opponents with a wide range of personalities – from cautious to daring – that will determine the level of risk each opponent is willing to take when deciding just how far to push their luck.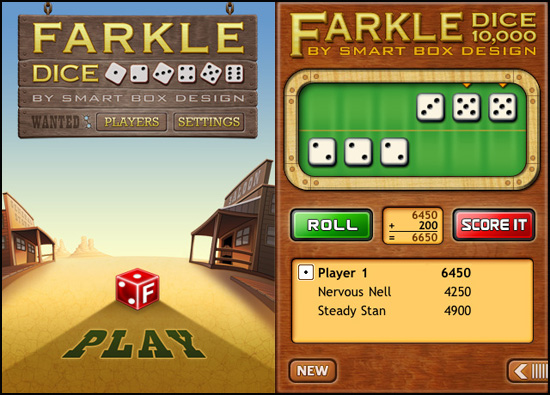 Farkle is an enormously popular game throughout the world. Players roll a set of six dice for points and can continue rolling the dice as long as their roll continues to yield points. Any non-scoring roll is called a Farkle and the player forfeits their turn and any points accumulated during that turn. Like most games of chance and skill, Farkle's attraction stems from players hoping to beat the odds and roll a high scoring combination.
Smart Box Design is known for the attention it places on both the playability and design of its games, and Farkle is no exception. There are very few dice games available for Apple iOS and Android with the quality and attention to detail that went into creating Farkle Dice. The game, which can be customized to accommodate regional rules, is extremely easy for users to pick up and begin playing upon installation. It is beautifully designed with the rich hues of a felt and wooden game-playing surface surrounded by a western theme.
Many games feature computerized opponents that are programmed with varying degrees of difficulty (smart, smarter, and smartest). Farkle, rather, comes with a collection of computerized opponents that are programmed to employ different strategies and take various degrees of risk when deciding whether to continue rolling for points – just like different people that Farkle players will encounter as they play the real dice game.
"We are delighted to bring one of the all-time classic dice games to the Apple iOS and Android Markets," said Todd Sherman, Smart Box Design's president. "Our version of Farkle provides mobile device users with a great game that can be picked up when they only have a few minutes to spare, but user beware – once the game is started, it can be very addictive!"
Farkle Dice is available either as a free ad supported app or without ads for 99 cents. Farkle Dice has been translated into French, German, Spanish, Japanese and Korean. Check it out over here for the iPhone version and here for the Android version
Powered by

Sidelines
Previous Post Amazon Kindle Review: The Future of Reading
Next Post Egyptian Doctor Releases an iPhone Game on 2011 Egyptian Revolution