Switch Frenzy (iPhone) Game Review: Excellent Arcade Fun
I love this game Switch Frenzy for the iPhone, it takes a simple premise, sliders (the game developer calls them switches but these things remind me of the stuff on recording studio equipment) and incorporates them into a game. Depending on what type of switch it is (an icon will show up above it), the player is given a short amount of time to move the slider in the correct direction.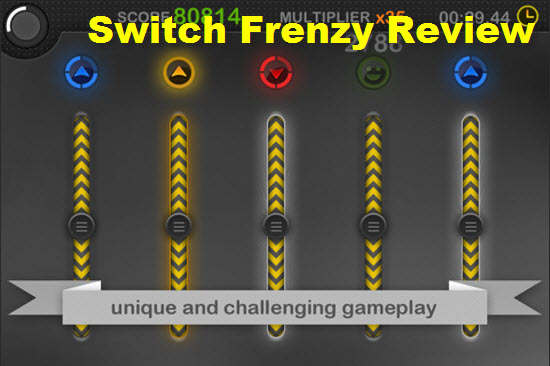 Sounds simple right? But given the fact that there are around 5 sliders to handle, players can expect a frantic time in this arcade game for the iPhone.  The game thrives on quick thinking and of course some smart moves from the players as well. Moving more than one slider at one time (thanks to the multi-touch support) nets extra points, and there are other bonuses and multipliers that the player can take advantage of, provided if they play well of course 😛
Switch Frenzy brings about three different game modes, namely a practice mode, a merciless Classic gameplay mode (in whic a single mistake of sending a slider the wrong direction will result in a game over), where as the Time Attack mode allows players to rack up as many points as they can within a 2 minute time frame.
On a side note, the game has this very nicely done art style that I really like. Achievement whores will find themselves at home here as the Game Center achievements in Switch Frenzy are really compelling to get, especially for competitive players. Some of these achievements include getting hundred thousands or even millions of points in a single classic game session, talk about bragging rights.
Excellent stuff this Switch Frenzy is, and Nine Over Ten 9/10 awards it with a 4.5 out of 5! Definitely a must have even if you have just USD 0.99 in  your iTunes App Store account (otherwise don't be a stingy poker…top up!). The game is available now on the iTunes App Store, check it out over here: https://itunes.apple.com/us/app/switch-frenzy/id416338881?mt=8
A review code was provided by developer Bread Engine to Nine Over Ten 9/10 for the purpose of this review
Powered by

Sidelines
Previous Post Garnet Games Releases Puzzle Moppet 3D Puzzle Game For Windows/Linux
Next Post Chromanoids (iPhone) Game Review: Cool Missile Command Gameplay