Achievement Unlocked: Air Penguin (iPhone) Gets 1 Million USD in Revenue In A MONTH
If you have not check out our Air Penguin (iPhone) review, you can do so over here. If you have downloaded the game, congratulations are in order as you are part of history. GAMEVIL has announced that Air Penguin reached 1 million US Dollars in revenue since its debut one month ago on the iTunes App Store. Yup, you read that right :). Check out the press release below for more details: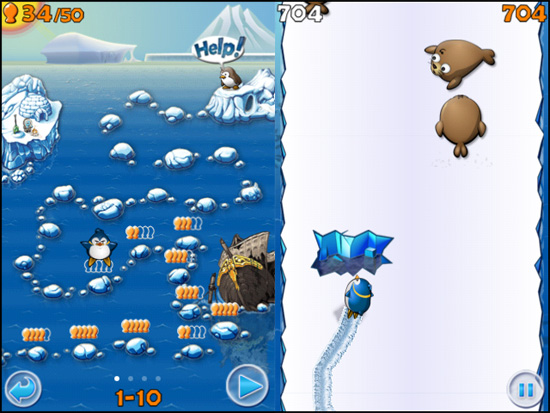 Air Penguin Reaches One Million USD In Revenue From App Store After A Month Since Its Debut. Hit game soars high and far on iPhone and iPod Touch
LOS ANGELES, CA – May 16th, 2011 –  GAMEVIL announced today that its worldwide hit game Air Penguin developed by Enterfly quickly reached one million USD in revenue, after a month of debuting on the iTunes App Store. This makes Air Penguin one of the fastest apps to grow to the milestone achievement on the platform. Winning over critics and players alike, the game priced at $0.99 USD with In-App Purchases has reached the No. 1 paid app rank on the iTunes Charts in multiple countries including USA, France, Germany, and Netherlands.
"People around the world have made their choice and spread the word about our newest game, and we're immensely grateful." said Youn Il Jung of GAMEVIL. "Thanks to everyone who helped us get to this exciting time by playing Air Penguin. We've got more great things coming up for the game that we know you'll enjoy."
Air Penguin takes advantage of the accelerometer in iPod touch and iPhone for simple yet addictive tilt-controls, and is optimized for hi-res Retina graphics and achievements through Game Center. Players control a father penguin coming to the rescue of his family, as he bounces, slides and glides across the Antarctic, all the while avoiding hazards and other sea creatures that get in his way. New levels, selectable characters and more surprises are coming in the imminent next update.
Air Penguin is available for $0.99 from the App Store on iPhone, iPod touch and iPad, or at https://itunes.apple.com/us/app/air-penguin/id425609130?mt=8.
Powered by

Sidelines
Previous Post Demo for Combat Mission: Battle For Normandy (Mac & PC) Launched
Next Post Garnet Games Releases Puzzle Moppet 3D Puzzle Game For Windows/Linux