Spins 3D Puzzle (iPhone) Game Review: Mind-boggling Goodness
There are some puzzle games that I consider mind-boggling and one category are the classic ring based puzzles that I've seen in IQ tests. It involves moving the rings in a way that the coloured parts are aligned nicely in the least number of moves. It was just a matter of time before someone, in this case, hobbyist developer Nathan Carter, to come up with a version of the game on the iPhone, called Spins 3D Puzzle.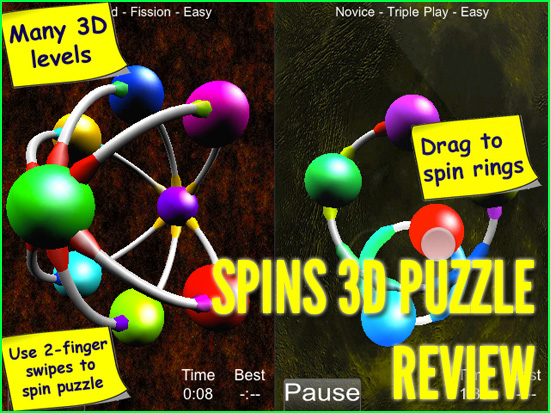 The puzzles in Spins 3D range from those that can take several seconds to solve to those that will take minutes. You'll be like me, spinning the rings around trying to figure out how to get the coloured ball parts in placed. For something even crazier, I would suggest players to ramp up the difficulty level. Hehehe.
"Tricky" will have the rings "sometimes" spinning themselves like as if they have a mind of their own. In "Hard", parts of the rings are locked and you'll need to spin them to get to the key. "Cruel" mode as you probably can guess it, combines BOTH! It's madness I'm telling you, but it's all in good fun.
Spins 3D may look a little raw at times, but this game really deserves your attention. With 120 puzzles, some really interesting difficulty levels AND Game Center connectivity (not bad for a first timer eh), this game gets a 4 out of 5 from Nine Over Ten 9/10.
The game is available on the iTunes App Store for USD 0.99. Do check it out over here: https://itunes.apple.com/us/app/spins-3d-puzzle/id427591379?mt=8. A review code was provided by Nathan Carter to Nine Over Ten 9/10 for the purpose of this review.
Powered by

Sidelines
Previous Post Prepare for an Epic Escape with Castle Runner for iOS
Next Post UFO Aftermath Arrives on DotEmu.com