Decipher Famous Quotes: Wordrive (iPhone) Game Review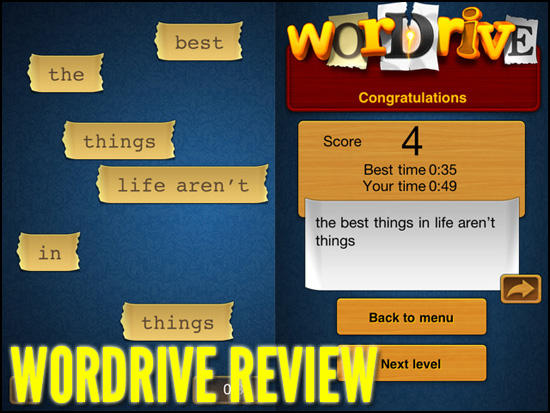 Back when I was in school, I used to crack my head over crossword puzzles, and most of the time, the words are those coming from famous quotes. It was through crossword puzzles and other form of word games that I got to learn about famous quotes. Now that I'm older I managed to get my hands on stuff from which these quotes came from. For example, I recently watched Apocalypse Now, and that movie is chokeful of quotable quotes like "I love the smell of napalm in the morning".
Anyways, it was quite delightful that I found an iOS game that makes its core gameplay around quotes. Called Wordrive, players are tasked with lining up words in the right order to form the quote/phrase. It's quite fun and you know what's the best part is you don't really need to know English to play the game! Wordrive has support for English, Russian, German, Spanish, French and Italian. Players are scored by how fast they decipher the phrase.
Who would have thought that this relatively simple game of words would be an interesting time-sink. There are several things that can be fixed though, namely the screen orientation. Having a landscape option would be nice since the phrases formed in-game can  be really long. Nevertheless, Wordrive gets a 4 out of 5 from us here at Nine Over Ten 9/10, so do check it out.
Wordrive is available on the iTunes App Store for just USD 0.99. A free version of the game is also available, so do check them out: https://itunes.apple.com/us/artist/rauf-aliev/id430326111. A review code was provided by the developer of the game to Nine Over Ten 9/10 for the purpose of this review.
Powered by

Sidelines
Previous Post Space Falcon Reloaded: Retro Shmup Remade and Launched for iOS Devices
Next Post Prepare for an Epic Escape with Castle Runner for iOS