MultiPong (iPhone) Game Review: Bringing A Whole New Dimension To Pong
It's interesting sometimes that the simplest games often end up to be the ones that captivate us the most. Take for example Fingerlab's latest game for the iPhone, MultiPong, which expands on the the typical Pong experience on iOS devices.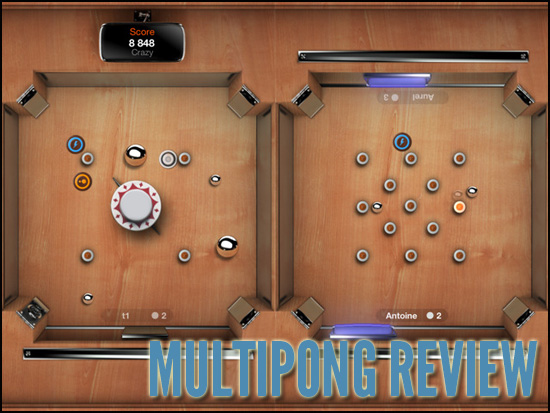 The game takes place inside a wooden board. Instead of just playing against an opposing paddle like we normally do in Pong, MultiPong players face up to three opposing paddles or three sides of the board (like a game of squash), while preventing the ball from passing their own paddle. It's basically a physics-based game, something that I see a lot these days and that's not necessary a bad thing.
The bumpers and bonuses on the board add a measure of unpredictability to the game as they tend to bounce or accelerate the ball, obscure ball movement, multiply the balls and even enlarge the balls. These wackiness combined with the game's 7 different game modes, result in some crazy and frantic gameplay. The ease of the controls on the other hand allow players to get into a certain flow while playing the game, which is almost hypnotic-like.
Aside from the gameplay, there are a number of really cool themes that players can choose to change the look and feel of the game. It's something that you don't normally see developers do these days to make a difference in a market saturated with games with almost similar gameplay elements. Topping it off is the Game Center connectivity allowing for online leaderboards and achievements.
MultiPong is a really fine Pong-ish experience on the iPhone and truly deserves Nine Over Ten 9/10's 4.5 over 5 rating. You've got to check out this game on the iTunes App Store (USD 2.99): https://itunes.apple.com/us/app/multipong/id366322908?mt=8
A review code was provided by Fingerlab to Nine Over Ten 9/10 for the purpose of this review.
Powered by

Sidelines
Previous Post Colorflys Makes Debut on iPhone/iPod Touch After Successful iPad Launch
Next Post Call of Cthulhu Set To Arrive On Mobile Phones/Devices