Monsterz Revenge (iPhone) Game Review: Serves Up A Nice And Scary Feast!
What happens when fast-food franchises come to town? I've got to witness the effects firsthand, the long queues at the drive-thru, the amount of garbage that people seem to toss out from their vehicles and of course, the reduced number of patrons at nearby restaurants. Well, if humans can be cheezed off at fast-food franchises, whatabout those cookout loving monsters in Astro Ape Studios' latest game for the iPhone, Monsterz Revenge? Poor chaps.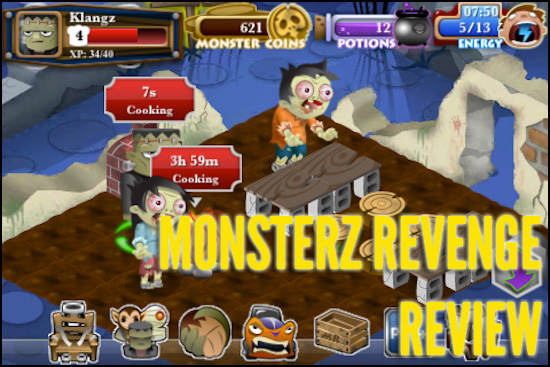 In some way this game seems to be a tongue-in-cheek commentary against the real-life proliferation  of fast-food restaurants. Players are given a certain amount of money to setting up their own graveyard, I mean restaurant, and from then onwards it plays like a number of social/freemium games out there in the market.
Players earn money by serving up dishes to their ghostly clientele (lol, kinda reminds me of the Chinese Hungry Ghost Festival, where you place food on the table and ghosts are supposed to come and consume the food). Money is used to purchase more items for your graveyard (seriously, thats the term used in-game) which in turn up the "Boo" meter. The higher your graveyard's Boo meter, the more money you get from your customers.
Occasionally you get the human walk-in. Scaring these pesky intruders will net you energy. Energy is one of the three commodities used in game, aside from the previously mentioned money, and Potions. Energy is used to play mini-games available in Monsterz Revenge. One of the mini-games involves ramming fast-food franchises with a battering ram attached to a monster mobile of sorts!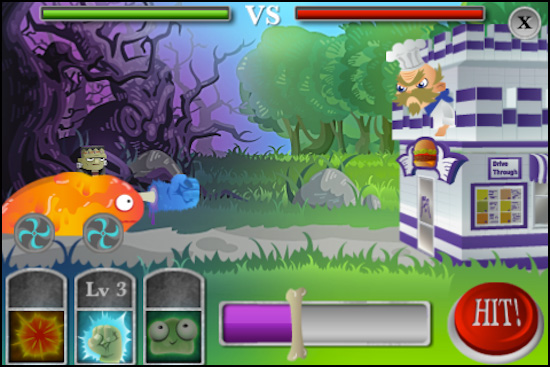 In this case, money and potions are used to purchase upgrades to the monster mobile. The main objective of playing mini-games is to gain XP points for your monster avatar. The more XP he/it has, more dishes will be available in the menu as well as more items will be made available to upgrade the graveyard.
Like many freemium games, it's a waiting game in Monsterz Revenge. Certain menu items will take a while to cook and while there's a risk vs reward model here (wait 22 hours for a certain dish to cook and get the massive payoff, or get a constant revenue stream going with dishes that take a shorter time), the Monsterz look-and-feel is certainly a refreshing change from most games and it's the key differentiating factor. Taking a cue off Animal Crossing, players can visit graveyards belonging to their friends!
And like most freemium games, there are shortcuts that can be taken. Players can spend real money on purchasing more of the three commodities mentioned above through in-app purchases.
Monsterz Revenge is a polished experience when it comes to freemium/social games on the iPhone, and it's worth checking it out. Nine Over Ten 9/10 awards this game with a 4 out of 5. The game is available for free on the iTunes App Store: https://itunes.apple.com/us/app/monsterz-revenge/id428134917?mt=8.
Powered by

Sidelines
Previous Post Thinknao Launches Quoth iOS Word Game Based on Popular Quotes