Thinknao Launches Quoth iOS Word Game Based on Popular Quotes
The guys behind one of Nine Over Ten 9/10's best loved word games for the iPhone, Wordlands (read our original review here), have not been resting on their laurels. With the successful release of the Chinese-oriented app, CYKW, Thinknao Software Limited has released a new English-language word game, Quoth.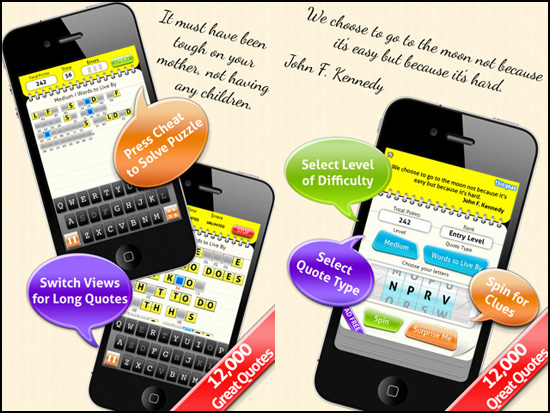 So what it Quoth? According to the developers, it's an exciting new twist to the word puzzles players have seen before. Players use their knowledge and skills to fill in missing letters of famous quotes, sayings and anecdotes; earn awards along the way and then keep or pass on your favorite quotes to friends and family (via FB, twitter, email or SMS).
It's addictive – Life is like a box of chocolates, you never know what you're going to get – funny – Nobody in football should be called a genius. A genius is a guy like Norman Einstein – motivational – Many a false step was made by standing still – and, at times, succinct and truthful – A hypocrite is a person who… but who isn't?  All in all, Quoth has something for everyone.
Here's the bargain. Players get 12,000 quotes spanning 40 some categories. You can play solidly for 4 days or 100 hours before you exhaust the database. Players can upgrade (pay) to get more categories or challenging levels or not. The game is available on the iTunes App Store for free, so do check it out over here: https://itunes.apple.com/us/app/quoth/id420836520?mt=8
Powered by

Sidelines
Previous Post Aww Shucks, On Why NOT To Upgrade To iOS 4.3.3
Next Post Monsterz Revenge (iPhone) Game Review: Serves Up A Nice And Scary Feast!