Puckerz! Remastered (iOS) Massive Update 1.1 Unleashed in App Store
Back in February, I gave Puckerz! a high rating of 4.5 over 5, simply because it was an amazing piece of work and furthermore it was Groundbreaking Games' maiden effort for iOS devices (check out the review here). Now, the hardworking folk behind Puckerz! have informed me that the game has been updated to version 1.1 and it's a massive update! Check out the following press release for more details: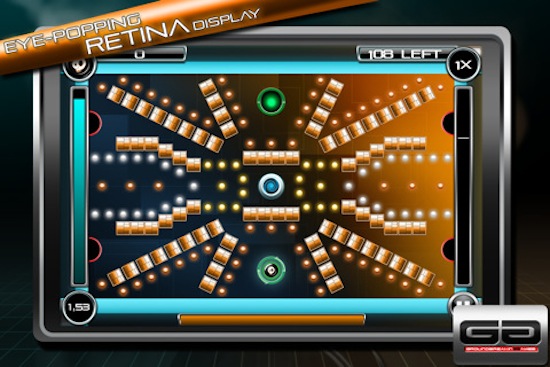 Puckerz! Remastered in Massive Update 1.1 Unleashed in the App Store
Groundbreaking Games today released Puckerz! 1.1, a remastered version of their first iOS game now packed with full retina display support, 2 new game modes, in-game zooming and braking, and many more graphical and gameplay improvements that raise the game's quality bar to a whole new level.
The game's premise is simple: Puckerz! is about launching a puck around destructible environments to collect as many orbs as you can before the time runs out. And as Gamezebo noted, "Admittedly, on paper this sounds like it could be a little boring. I promise, it's not."

Groundbreaking Games shaped the game to provide a unique experience for players by combining the fast-paced tension of breakout games with the physics-based addictive fun of pinball games, visualized with sleek eye candy graphics, DJ'ed with a pop techno soundtrack, and wrapped in a pick-up-and-play package.
And since Puckerz!'s debut in early February of this year, the game has received numerous awesome reviews praising its aesthetic appeal, its pounding techno soundtrack and its gameplay that is all about "wreaking [an] undeniably satisfying havoc" as iPhone Quality Index puts it, locking Puckerz! in the Top 10 of its charts in the same month.
Groundbreaking Games has since remastered the Puckerz! player experience and today unleashed a massive update with:
Full Retina Display Support
2 New Game Modes (Time Attack and Sudden Death)
In-Game Zooming
Puck Brakes
3-Star Ranking System
Much Improved Graphics and Gameplay
Much Improved Level Design and Difficulty
New Leaderboard for each Game Mode
The addition of 2 new, unlockable game modes, Time Attack And Sudden Death, bumps the playable levels up to 90, as the improved first 30 levels become playable in 3 different ways. Time Attack increases the tension and panic of the game by drastically cutting the starting time limit from 2 minutes to 10 seconds.
Sudden Death, on the other hand, offers a more relaxed game having no time limit at all as long as the players do not miss an orb in every single shot. The new game modes change how the game is played and offer fresh experiences to players altogether. With all these improvements, Puckerz! still "has that same just one more turn draw as Peggle" as SlideToPlay pointed out.
Pricing and Availability:
Puckerz! 1.1 is only $0.99 USD (or equivalent amount in other currencies). Both Puckerz! and Puckerz! Free are available worldwide exclusively through the App Store in the Games category. Check out the games over here: https://itunes.apple.com/us/artist/groundbreaking-games/id414440867
Powered by

Sidelines
Previous Post Of Promo Codes And iTunes App Store Reviews
Next Post UNICEF Spain Uses Momotaro eBook (iOS) to Raise Money for Japanese Children