Aww Shucks, On Why NOT To Upgrade To iOS 4.3.3
Looks like Apple is quickly address the location tracking bug with the release of iOS 4.3.3. This new update fixes among other things the duration in which the location data is kept (now limited to a week), the same location data is no longer backed up to the user's computer when syncing with iTunes, and the cache is deleted if Location services is turned off on the phone.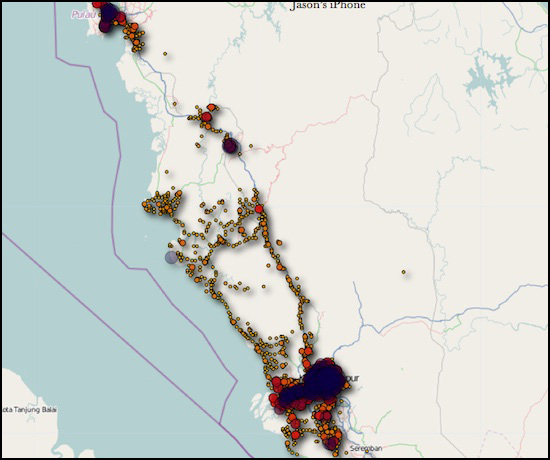 Sounds pretty cool right, but wait a minute, with this update I'll no longer be able to use Pete Warden's iPhone Tracker application to visualize my iPhone's location information over the past few months (click here to check out my original post for more visualizations like the one above). That's a killjoy considering I'm not so concerned about my location information getting leaked out anyways (I only sync with my MacBook Pro and this baby is always under lock and key).
Anyways, it was fun while it lasted :(. So iOS 4.3.3, here I come. I hope you make good on your promise for Battery Life improvements.
Powered by

Sidelines
Previous Post UNICEF Spain Uses Momotaro eBook (iOS) to Raise Money for Japanese Children
Next Post Thinknao Launches Quoth iOS Word Game Based on Popular Quotes