Robot Wants Kitty (iPhone) Review: Excellent iOS 2D Platformer
A thinking man's 2D platformer. That's what I would call Raptisoft's latest game for the iOS platform, Robot Wants Kitty. In this game, players take control of a robot, with the objective of uniting it with a kitty locked up somewhere in the level (apparently the robot is lonely and stuff like that).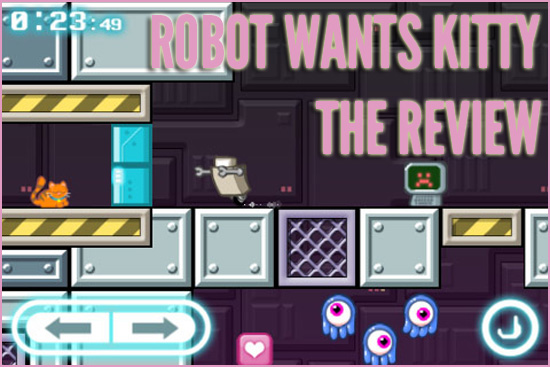 Unlike most platformers where it's a straightfoward Point A to Point B kinda thing, the robot starts of with 0 abilities except for the ability to move left or right. Players are then forced to use their wits to go about the level to collect upgrades that will transform the robot into a jumping, shooting machine of death, destroying aliens and obstacles alike that are getting in his way to be united with the kitty.
The levels are designed to be tough nuts to crack, but are not impossible to beat if players employ some mental grease/ingenuity given whatever upgrades (or lack of) the robot has. Speaking of levels, there are a total of 7 levels to choose form. The novice level is obviously easy on the brain, while the "short and bossy" level is filled with not one, not two, but three boss fights, the expert level, well…you'll need a lot of luck and skill on this.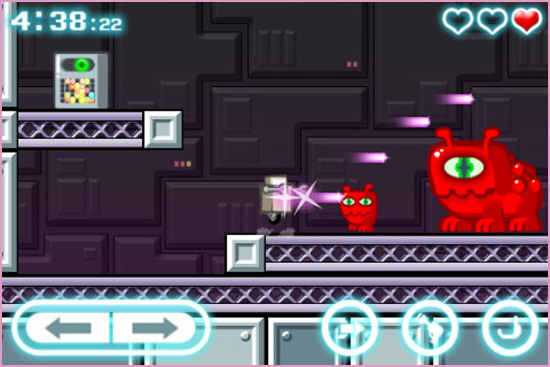 The game even comes with a built in level editor for aspiring designers to come up with their own levels. Future updates to the game will enable the "Kitty Connect" mode, which will allow players to share custom created levels. This feature makes an already great game an amazing one. OpenFeint connectivity is included right off the bat, thus making sure that the social gaming bit is covered.
Nine Over Ten 9/10 awards the amazing Robot Wants Kitty with a well deserved 4.5 over 5. Do check out the game over at the iTunes App Store, it is available for USD 0.99: https://itunes.apple.com/us/app/robot-wants-kitty/id423108053?mt=8
Full Disclosure: I tried out the game on a lark, I even forgot who actually recommended the game to me, but it turned out to be an opportunity well taken.
Powered by

Sidelines
Previous Post Plane Rush (iPhone) Game Review
Next Post Indie Developers Use Kickstarter to Fund New iOS Game Titled Star Saver