Bruno Mars Revenge (iPhone) Game Review: One For The Fans
It's a beautiful night, We're looking for something dumb to do, Hey Baby, I think I wanna marry you. I really enjoy humming to this song. IMHO it was a matter of time before Bruno Mars showed up in some way or another on Tapulous' Revenge series and lo and behold, here we have it, Bruno Mars Revenge.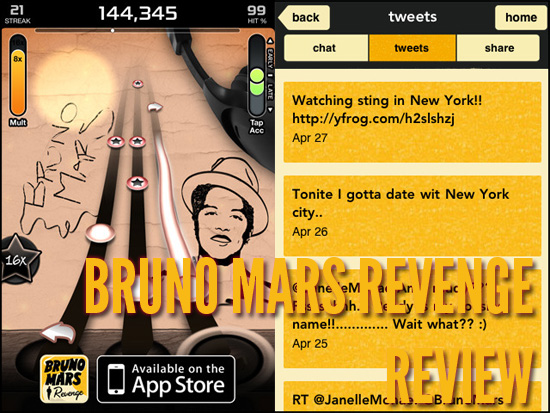 I've always admired the series which not only brought the entire "Guitar Hero"-esque gameplay to the iPhone, but also really cool, contemporary tracks. Bruno Mars Revenge is no different; the game features 10 tracks from his "Doo-Wops & Hooligans" album with an additional 4 waiting to be unlocked. While I'm most comfortable at easy mode, finger tapping pros can find no shortage of challenge in the other difficulty modes.
I kinda like the background graphics that happen in-game, very nicely done. Bruno Mars Revenge is one for the fans as it is chokeful with other value-added features, such as an integrated Twitter feed (tapping off @BrunoMars), Bruno Mars' artist biography, three exclusive chat rooms, lyrics and even Facebook, Twitter and e-mail integration for fans to spread the word on Bruno Mars.
Bruno Mars Revenge presents the gameplay and the music that we've come to expect of this venerable series for iOS devices, and then some, for the fans. Nine Over Ten 9/10 rates Bruno Mars Revenge at a well deserved 4.5 over 5. The game is available on the iTunes App Store for USD 4.99, do check it out over here: https://itunes.apple.com/us/app/bruno-mars-revenge/id432171022?mt=8.
A review code was provided by Tapulous to Nine Over Ten 9/10 for the purpose of this review.
Powered by

Sidelines
Previous Post Mortal Kombat Legacy: Watch It Now
Next Post Plane Rush (iPhone) Game Review