iPad 2 Offical Launch in Malaysia – 29th April 2011: A Brief Guide
For Malaysians who have staved off the temptation to get parallel-imported iPad 2, the wait is over as the iPad 2 will be officially available in Malaysia this Friday, the 29th of April 2011. For those not in the know, the iPad 2 features an entirely new design that is 33 percent thinner and up to 15 percent lighter than the original iPad, while maintaining the same stunning 9.7-inch LED-backlit LCD screen.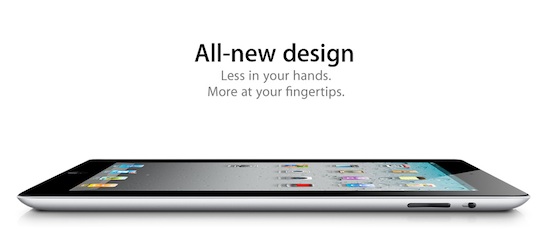 iPad 2 features Apple's new dual-core A5 processor for blazing fast performance and stunning graphics and now includes two cameras, a front-facing VGA camera for FaceTime® and Photo Booth®, and a rear-facing camera that captures 720p HD video, bringing the innovative FaceTime feature to iPad users for the first time. Though it is thinner, lighter, faster and packed with new features, iPad 2 still delivers up to 10 hours of battery life* that users have come to expect.
According to the official press release from Apple, Malaysia shares the iPad 2 launch with several other countries, namely Japan (on the 28th), Hong Kong, India, Israel, Korea, Macau, Philippines, Singapore, South Africa, Turkey and the UAE. According to Apple, the iPad 2 with WiFi  has a suggested retail price of $499 (US) for the 16GB model, $599 (US) for the 32GB model and $699 (US) for the 64GB model.
iPad 2 with Wi-Fi + 3G will be available for a suggested retail price of $629 (US) for the 16GB model, $729 (US) for the 32GB model and $829 (US) for the 64GB model. Malaysians can look forward to cheaper pricing in the local currency (Ringgit Malaysia) due to it strengthening to an all-time 13 year high in recent days against the US Dollar. The official pricing in RM is as follows:
iPad 2 Wifi 16GB RM1,499
iPad 2 Wifi 32GB RM1,799
iPad 2 Wifi 64GB RM2,099
iPad 2 Wifi + 3Gs 16GB RM1,899
iPad 2 Wifi + 3Gs 32GB RM2,199
iPad 2 Wifi + 3Gs 64GB RM2,499
So where to get this highly sought after device on launch day? Customers can get them at the following authorised Apple resellers: Machines, EpiCenter, MacStudio, Switch, iStudy, Harvey Norman, MyBytes and Mac City.
Powered by

Sidelines
Previous Post Puzzle Draws: Follow Up To Hit Jigsaw Puzzle Game Released on iPhone
Next Post This Week in Comics: Brightest Day #24, Emerald Warriors #9, Deus Ex #3, Batman Inc #5 and G.I Joe #165