Filth Fair (iPhone) Game Review: The Filthiest But Most Amazing Game on the App Store
This is really amazing, a game that has been rejected thrice (for being too obscene, it does have some nudity) from being added to Apple's App Store turned out to be one of the best games that I've ever played on the iOS platform once it finally got approved by Apple. Nevermind that the title to Toytek's game is a little strange but Filth Fair is one of the best trivia games ever to grace the App Store.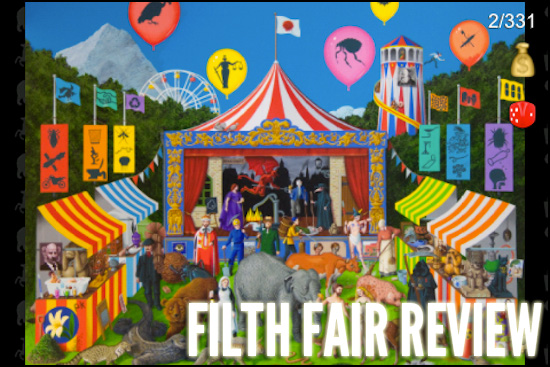 Commissioned by the Wellcome Trust, a global charity dedicated to achieving extraordinary improvements in human and animal health, the objective of Filth Fair is to find all dirt-related words associated with the objects in an interesting work of art by Mr. Mike Wilks. Players can either tap on the various objects in the painting or with the roll of the dice be brought randomly to an object.
Depending on the object, the players will need to decipher 1 or more words.  To help players out, there are several ways to go about in decyphering the names. Wild Stars reveal letters in the selected word. Cryptic Clues on the other hand provide clues on what the word would be, but trust me, the clues themselves can really be head-scratchers, living up to the "Cryptic" part of the term Cryptic Clues.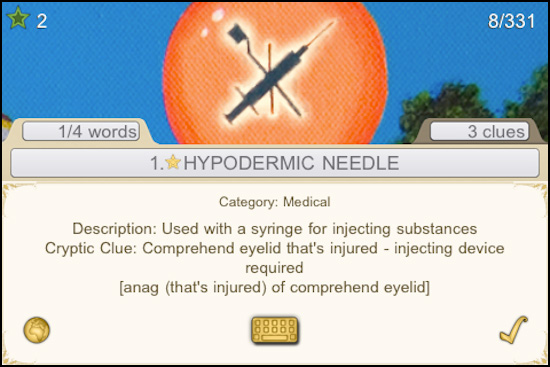 Hints are a little more direct, whereas the Jigsaw Jumble reveals all the letters in the word/phrase but players will have to arrange them Scrabble style. Players are judged on a word by word basis, on how many clues and hints they have used to decypher the word. There are 331 words to decypher in this game, and having played quite a bit of the game, this can  take awhile for most players.
The words are divided into 18 categories, and a majority of Filth Fair's Game Center achievements are formed around these categories.
I don't know whether the game set out to be thought provoking (given its patron and artwork), but Filth Fair is an amazing and beautiful piece of art melded with tough trivia gameplay. Nine Over Ten 9/10 is proud to present it with a 4.5 out of 5 rating. Do check it out now, and it's FREE of charge on the iTunes App Store. You can find it over here: https://itunes.apple.com/us/app/filth-fair/id417576702?mt=8
Powered by

Sidelines
Previous Post Devil's Due Releases The Royals: Prince William and Kate Middleton Digital Comic Book on Android
Next Post The Good Shepherd FREE – A Kids Sheep Rescue Game Available for iPhone