Devil's Due Releases The Royals: Prince William and Kate Middleton Digital Comic Book on Android
The Royal Wedding of Prince William and Catherine (Kate) Middleton will take place in a couple of days and I can see that coverage for the event is reaching a fevered pitch, especially on my favourite news outlets, CNN and the BBC. Now even one of my favourite comic book publishers, Devil's Due, has joined the bandwagon with an interesting project, "The Royals", a biographical digital comic book for Android smartphones.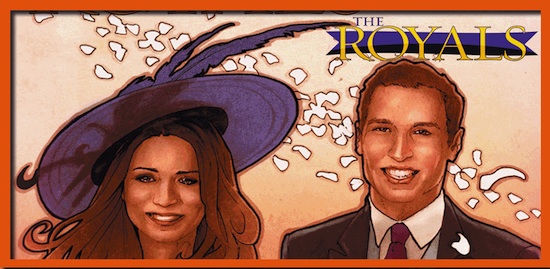 Since the marriage and tragic death of Princess Diana, the world has been fascinated with the lives of the British Royal Family. As the eldest son of the monarch sets to wed with the whole world watching, Devil's Due Digital and Bluewater Productions invite you to follow the budding love story from the beginning with The Royals: Prince William and Kate Middleton on Android Market.
The stunning 32-page issue is written by CW Cooke and penciled and inked by Pablo Martinena. The biographical digital comic takes readers through the early life of William and Kate, and looks to give a fresh take on the couple's 8-year romance. In a news release, President of Bluewater Darren Davis said, "As Americans, we are fascinated by the British royals. They fit within our construct of a celebrity-fueled popular culture. But more than that, they represent an air of pomp and history that we just don't have."
The Royals: Prince William and Kate Middleton is sure to leave readers satisfied, yet still wanting more with a quick behind-the-scenes glance into the lives of regal Prince and his bride-to-be before they join together at the wedding of the century. For more information on The Royals: Prince William and Kate Middleton visit Android at https://bit.ly/dKqQu3.
Powered by

Sidelines
Previous Post DotEmu Announces 99 Cent Sale for iPhone Apps
Next Post Filth Fair (iPhone) Game Review: The Filthiest But Most Amazing Game on the App Store