Bunny the Zombie Slayer (iPhone) Review: Cracking Eggs Over Zombies
It's really an Easter-themed craze here on the iOS gaming front. The number of games being released just in time for the season is simply astounding. The latest that I managed to find time to review (so many games, so little time) is Hothead Games' latest offering to the iOS platform, Bunny the Zombie Slayer.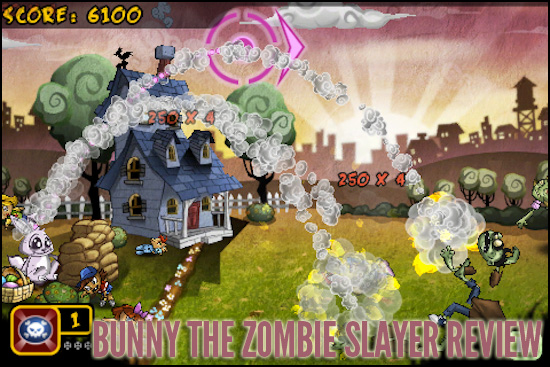 The game's closest relative gameplay wise would be Plant vs. Zombies, take out the tower defense element, put in an one-bunny army and you get Bunny the Zombie Slayer. Players take control of the Easter Bunny himself, defending a bunch of children playing in the lawn against waves and waves of zombies. This is done by lobbing Easter eggs at them; how is it that eggs can be this lethal to zombies is something I can't really answer.
The controls are simple, players simply need to move the cursor to set the height and distance to lob a particular egg. The bunny would then proceed to lob the egg and while there are different kinds of eggs, players do no have the choice to choose which type of egg gets lobbed. But in any case, players will have to act fast as the zombie horde consists of several different kinds of zombies, some of which move faster or are harder to take down.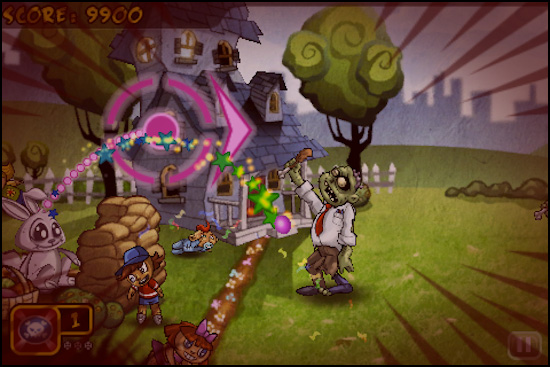 The game's art style and effects for the different kinds of eggs are really cool. Should the player gets overwhelmed, a special egg bombardment can be ordered. There's this super slow-mo mode that the game gets into whenever a zombie gets too close to where the kids are, allowing players to quickly get rid of the zombie. Players get cool achievement messages whenever they do a good job cracking eggs over these zombies, but it's surprising to see Game Center missing from the game.
That shortcoming aside, Bunny the Zombie Slayer is an amazing game, and I've never had so much fun killing zombies, well, ever since Plants vs Zombies. It totally deserves a 4 out of 5 rating from us at Nine Over Ten 9/10.
The game is now available on the iTunes App Store for USD 0.99. Check it out over here: https://itunes.apple.com/us/app/bunny-the-zombie-slayer/id429323581?mt=8. A review code was provided to Nine Over Ten 9/10 by Triple Point PR for the purpose of this review.
Powered by

Sidelines
Previous Post Curious To See Where My iPhone Has Been? Check This Out
Next Post Samurai Girl (iPhone) Game Review: Best of Breed 2D RPG?