Hot Cross Bunnies (iPhone) Game Review: Easter Fun!
Hot Cross Buns, Hot Cross Buns, One-a-penny, Two-a-penny – Hot Cross Buns. That was part of a nursery rhyme that I used to recite back in kindergarden. And since it's Easter, Fixdit Ltd has decided to adopt it as the title for it's Easter themed game, Hot Cross Bunnies.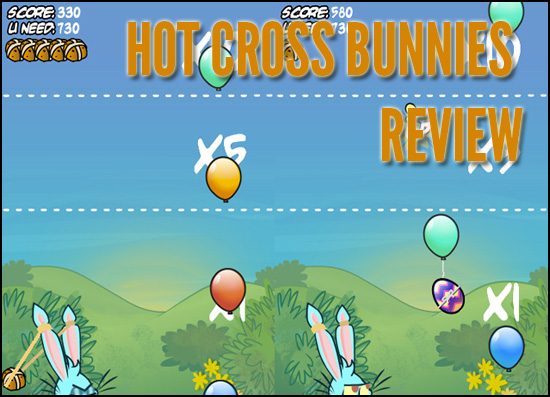 The idea behind the game is a pretty novel one. It plays like Angry Birds but instead of playing it in Landscape mode, Hot Cross Bunnies takes place in Portrait mode. Players launch a limited number of hot cross buns off a make-shift sling on a pair of bunny ears, but instead of static targets, players will be aiming for moving balloons.
The higher a balloon is on the screen when it is hit, the more points the player gets. This is crucial considering there's a points threshold to pass in each level and players only have a finite number of buns to achieve that target.
I had quite a bit of fun playing the game once I got pass the initial difficulty of playing an Angry Birds type of game in portrait mode. There was very little screen space to maneuver to adjust the sling shot but with practice, this wasn't a show stopper. The game looks pretty decent, and being an Easter-themed game, it does have colourful easter eggs hanging off some of the balloons; shooting these will net the player extra points.
Nine Over Ten 9/10 rates Hot Cross Bunnies at a 3.5 over 5 for a simple but yet good and fun effort. Go check it out.
Hot Cross Bunnies is available on the iTunes App Store for 99 cents, check it out over here: https://itunes.apple.com/us/app/hot-cross-bunnies/id432734772?mt=8. A review code was provided to Nine Over Ten 9/10 by Fixdit for the purpose of this review.
Powered by

Sidelines
Previous Post Destructopus (iPhone) Game Review: Excellent Side Scrolling Destruction For A Cause
Next Post Curious To See Where My iPhone Has Been? Check This Out