Air Chix (iPhone) Launch Date Confirmed with a Launch Special Price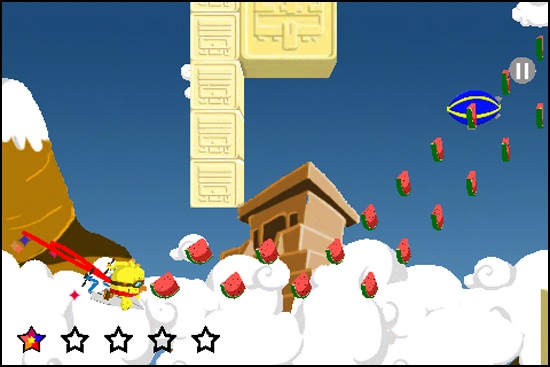 Mark this date down on your calendar all you iOS gaming fiends out there: 22nd April will mark the release of Air Chix for the iPhone by indie app developer Tokkao. As a launch promo, the game will be free for the first 24 hours.
Air Chix is about a treasure hunter little chick who is looking for the treasures aboard his paper plane. Chix must avoid the ruins obstacles and collect fruits. Air Chix is an iPhone game with a classic side-scrolling gameplay. "Who said little chicks could not fly?" With a simple one-touch flight experience, player will be able to control the flow of the flight.
Along the way, the players can also unlock Stars Fruits. These stars will give them a temporary speed boost, which allows them to improve their final score. However, it makes it more difficult to avoid the obstacles during this boost. The physics of the game is really smooth since the game used the Unity3D physic's engine. Although physics is not a important part of the game, it provides a really smooth ride for the player.
So stay tuned and keep your eyes peeled for Air Chix this Friday.
Powered by

Sidelines
Previous Post The M (iPhone) Review: Decent Puzzler
Next Post Game of Thrones – Hmmmm…