Air Penguin (iPhone) Game Review: Keeps It Cool And Delivers!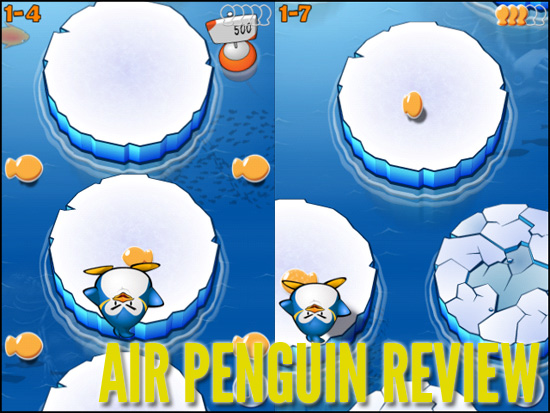 Air Penguin really is a cute casual game for the iPhone game and it features really friendly tilt controls. As a fine addition to the "infinite-running/jumping/flying/distance" genre of games, players take control of the titular character, Air Penguin, as he bounces and slides on ice blocks while avoiding obstacles like thin ice and seals and trying not to land in the sea.
Players also can hitch rides on whales and turtles, which is pretty cool and they are a means of getting around obstacles as well. The game has two modes, namely a story mode which features a whopping 100 levels in which Air Penguin is out to save his family from melting ice caps as a result of global warming, and an endless mode which is more in tuned to hardcore players who aim to see how far they can go before becoming fish food.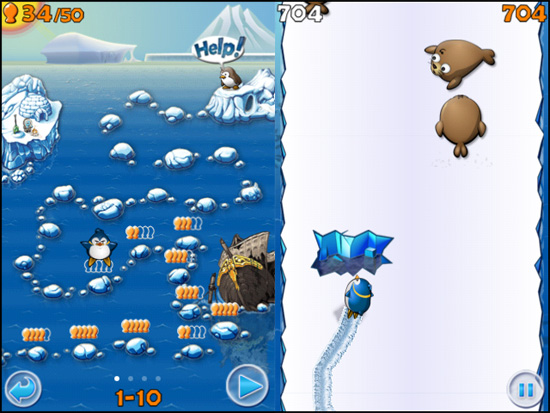 The game does come with an environmental message but without being overbearing, letting the gameplay and the graphics appeal to the player instead. Not to be left out, the developers included Game Center integration with 39 achievements and leaderboards. Players have the option to share their scores on Twitter and Facebook as well.
Air Penguin definitely wins top points with its casual, easy to pick up and play gameplay and the replay value as a result of the sheer number of levels and the endless mode. It's worth checking out and Nine Over Ten 9/10 awards Air Penguin with a well deserved 4 over 5 rating.
Air Penguin is available on the iTunes App Store for just USD 0.99, check it out over here: https://itunes.apple.com/us/app/air-penguin/id425609130?mt=8. A review code was provided by publisher GAMEVIL to Nine Over Ten 9/10 for the purpose of this review.
Powered by

Sidelines
Previous Post App of the Week: Pimp Your Screen, Now With Lock Screen Pimping!
Next Post The Humble Frozenbyte Bundle: 5 Indie Games, You Name The Price